Deep emotions and timeless beauty for a Traditional Moroccan Destination Wedding
When Jabeen first got in touch with me about her Traditional Moroccan Destination Wedding at Villa Laarissa in Marrakech, we quickly realised our shared passion for this beautiful city bursting with colour, fragrance and history.
"OMG, Wow!
You have done such a fantastic job. We are just wowed by each picture we see.
Our photos are simply amazing and scream Moroccan vibes.
We are SO lucky to have found such a great photographer.
You are the best!"

~ Jabeen & Mostapha ~
Jabeen hails from Birmingham in the UK, while Mostapha is Berber and comes from the Atlas Mountains in Morocco.
I had photographed several destination weddings in Marrakech before, including an exquisite Ksar Char Bagh wedding, a colourful Indian Marrakech wedding and a destination wedding at a Saharan villa, but none had included such traditional Moroccan elements as I knew this wedding would.
I was so excited – they were planning a full on traditional 3 day Moroccan Destination wedding with a Mehndi, a traditional Nikkah and a colourful Walima in the Atlas mountains on the third day to round out the celebrations. And it was on one of the hottest weekends in Morocco. Jabeen really wanted to celebrate and feature the beauty of Morocco with an extensive couple shoot in the Sahara, in the Medina and several sites in the old centre of Marrakech. The Walima took us on a mule ride to an incredible waterfall and swooping views of the Atlas Mountains, but that's a story for another post.
After days of planning and bouncing off of each others' excitement, I realised not only had I fallen in love this lovely couple, but that I also couldn't wait to shoot their wedding.
Getting ready
I began the morning on the roof terrace at Riad les Oliviers, one of those Riads that you could easily pass by as it looks very understated on the outside. However once you step through the simple door, it opens up into a quiet oasis that exudes peace and tranquility. It is located right at the edge of the Medina, just around the corner from the Bahia Palace.
Jabeen spent the early hours of the morning on the roof terrace relaxing, chatting and getting her make up done. When it became too hot we moved downstairs and Jabeen donned her exquisite deep blue Nikkah outfit. She added her Maang Tikka, the traditional Asian forehead jewellery and glass bangles that showed off her intricate Henna. Did you know, that the darker a bride's Henna comes out, the more her Groom is said to love her? Jabeen's Henna popped intensely off her hands and she looked absolutely stunning.
The ceremony – an emotional Nikkah
The Nikkah is a Muslim wedding ceremony, traditionally a very emotional day when the bride's family 'hand' the bride over to her groom. It is usually followed by hours of celebrations and a prayer in the evening. And with Mostapha's family being Berber, I knew these celebrations would be really vibrant and energetic.
Jabeen and Mostapha's Nikkah took place in the gloriously sun bathed Villa Laarissa, and was an emotional ceremony all round. Traditionally, the bride and groom aren't allowed to see each other until after they are married, so two groomsmen held a vibrant fabric wall up between them and blocked their view. Then they dropped it and Jabeen and Mostapha were finally able to see each other for the first time. Talk about an emotional first look!
Hugs, laughter and happiness followed and when Jabeen's grandad came up to give her a hug, there wasn't a dry eye left in the room.
After the Nikkah, the celebrations began and everybody enjoyed a chat, well wishes and a wide spread of delicious Moroccan pastries, while Jabeen, Mostapha and I waved goodbye to everyone at the celebration until dinner and headed off to their incredible Moroccan couple shoot.
The Moroccan Couple Shoot
I struggle to put into words just how much fun this Moroccan Couple Shoot was. We had planned our route very carefully, so that we would make the most of the time we had. We methodically and with a lot of hugs and giggles ticked the locations off our list – from the incredible views over the Sahara riding camels at Annakhil, to the beautiful Koutoubia mosque and gardens, to our Rickshaw ride to the bustling Djemmaa el Fna, the incredible city Gate Bab Agnaou and the Kasbah Wall.
My favourite of all the places we visited though has to be the breathtakingly beautiful Ben Youssef Madrassa.
The reception
When we finally returned to the festivities, Villa Laarissa gleamed with lots of traditional Moroccan decorations and lights. A Moroccan band waited to guide the newly married couple in and onto the stage.
The Imam spoke the evening prayer and the guests enjoyed a deeelicious Moroccan dinner.
After the meal, everybody released paper lanterns which sailed slowly and gracefully out across the Sahara desert. Then the band started to play again and everyone hit the dance floor.
And if you've ever seen Berbers celebrating, you'll know that these celebrations were simply incredible.
Wedding Favourites
Here's their Luxury Traditional Morrocan Destination Wedding at Villa Laarissa in Marrakech wedding. Feast your eyes and daydream with me of warmer days.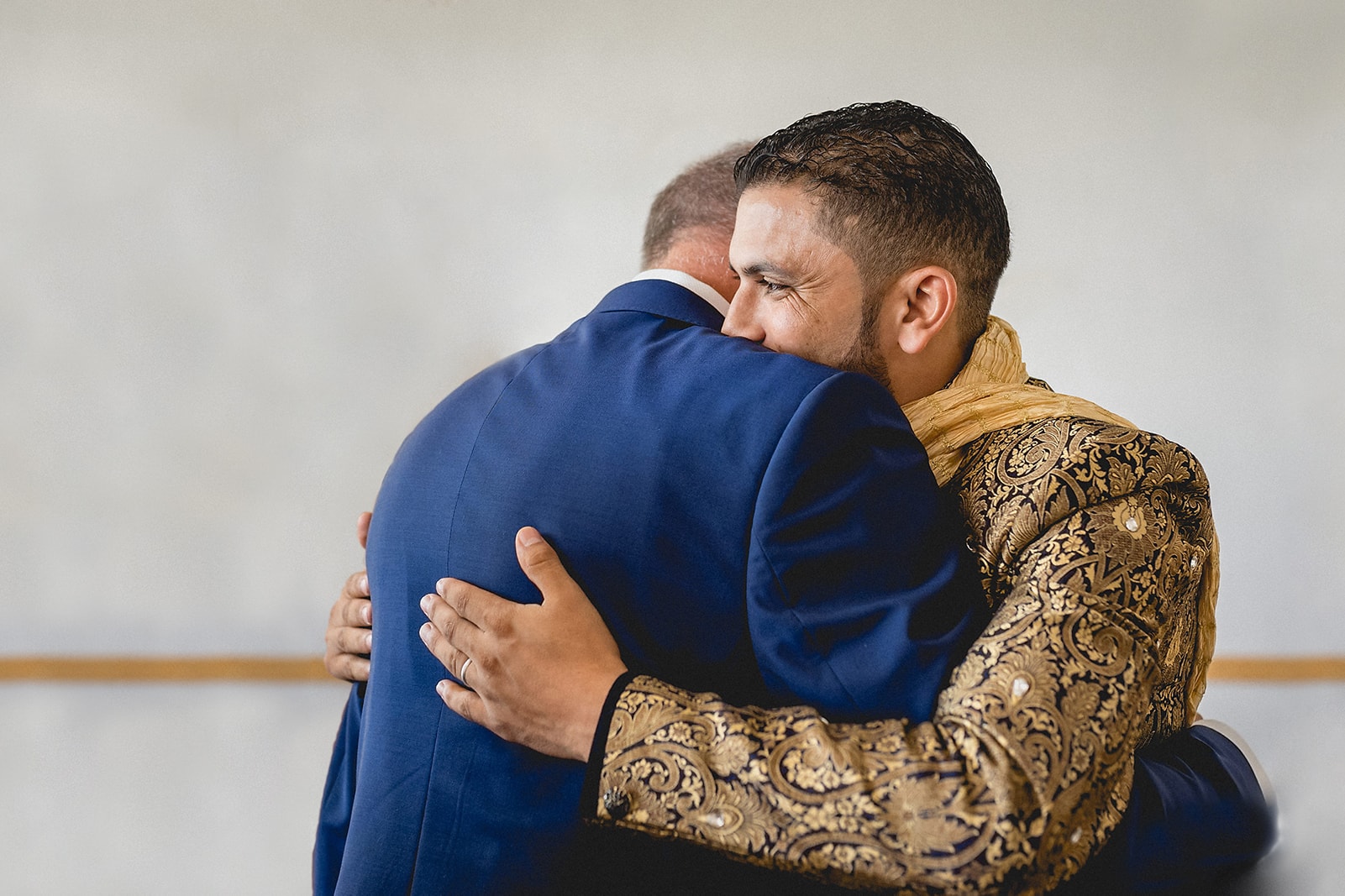 I loved absolutely everything about this wedding and if you're looking for a Moroccan Destination wedding photographer, get in touch!
FAQs
Can I get married in Morocco?
If you are Muslim, you can legally get married in Morocco.
If you are Christian or of no specific faith, you can either bring your own registrar out to Marrakech or have a legal ceremony in your own country and have a wedding blessing or celebration in Morocco.
What are the best wedding venues in Marrakech?
Marrakech offers a wide range of wedding venues. There are traditional Riads all across the Medina, most of them in walking distance to the main square, and luxurious villas on the outskirts of the city and in the Sahara with more breathing room and bigger capacity.
Do any wedding venues in Marrakech have a pool?
Most Riads in the Medina will have flowing water fountains. Many have central pools in the heart of the Riad and almost all Villas offer at least one extensive pool.
Which wedding hotels in Marrakech have rooms with great views?
Most Marrakech Riads and Villas have roof terraces that offer beautiful views across the city or the desert.
Do wedding venues in Marrakech have airport transfer?
Most Marrakech Riads and Villas can arrange airport transfer for you and your guests both on arrival and departure at an additional charge.
The Details
Traditional jewellery: http://www.shopbees.com
Venue: http://villa-laarissa.ma/
Getting Ready venue: https://riad-les-oliviers.hotelsmarrakech.net/en/