Being part of any wedding is an honour, but I'm always that extra bit excited about a multicultural wedding day. I love to experience the traditions from cultures and countries around the world that my couples choose to pay homage to on their wedding day. Stella and Marc included a traditional Chinese tea ceremony as part of their Sunny Fusion Morden Hall Wedding and it was clearly an emotional and meaningful part of the celebration for both of them.
Stella looked in-CRE-dible in not one but three gowns during the day. She totally rocked her white halterneck dress for the traditional white English marriage ceremony. However, I think my favourite of her outfits was the scarlet Chinese silk number for the tea ceremony and speeches. In the first image below the sunlight floods in and lights her up as she fastens her shoe. The golden light hits the red silk just so and the way she's smiling, it's just exquisite. It was an immediate favourite image for me from this Sunny Fusion Morden Hall Wedding.
We went for a walk and for a few portraits in the gorgeous early spring grounds of Morden Hall. The bright sunshine lit up the first daffodils and there were ducks swimming on the river running through the property. Lovely.
Traditions and Tea
A quick outfit change later and it was time for tea in the most traditional and beautiful sense. Stella and Marc knelt to serve fragrant tea to their parents, family and friends. The Chinese Tea Ceremony is a sign of great respect and gratitude. at this Sunny Fusion Morden Hall Wedding this beautiful tradition brought a lovely sense of calm to the proceedings. It was the perfect way to lead into dinner, speeches and a fabulous party.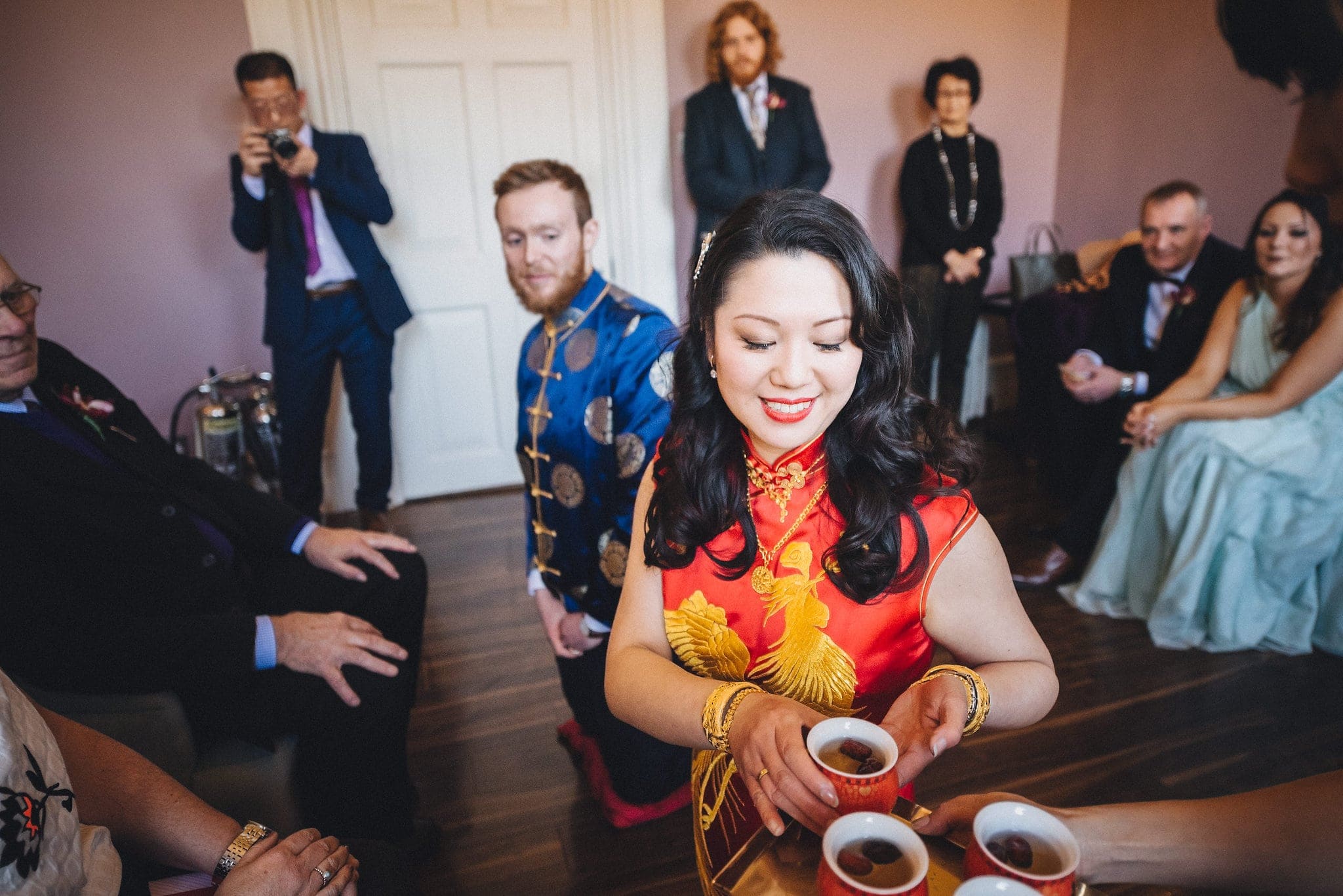 I try and keep it together during weddings – no-one wants a sniffling photographer at the back of the room after all! However, if there's one thing that's likely to get me going, it's seeing parents getting emotional. Stella's dad shared some beautiful moments with his daughter during the day, and there were happy tears all over the place.
As London Wedding venues go, Morden Hall is really fab and I can't wait to photograph a wedding here again. From the beautiful ceremony room, to the spacious and bright reception hall, to the gorgeous grounds and stream, it's a London wedding venue that offers couples so much versatility. I really enjoyed capturing this gorgeous Sunny Fusion Morden Hall Wedding and I can't wait to photograph a wedding here again soon. If you're planning your wedding and looking for a photographer that'll showcase your love story in all its fabulous, colourful glory, then we need to have a chat! Get in touch and talk to me about your plans – I can't wait to hear from you soon.
Fusion Morden Hall Wedding Favourites
If you only have a few minutes, take a look at Stella and Marc's favourites from their Sunny Fusion Morden Hall Wedding or scroll on to see more of the running of their day.
A Sunny Fusion Morden Hall Wedding