Choosing your wedding photographer is a really personal choice and you should take all the time you need to pick the one that is the best photographer for you. There are the obvious questions of availability and price, but there are so many other questions that you might not have thought of or didn't know to ask, but which might have a bigger impact on what you can expect and how your day will go. Also, during these tricky and unpredictable Covid19 times, it's even more important to know where you stand. As a rough guide you should at least look at their:
Approach and portfolio
Timings and specifics
Package and what it includes
Personality and how you gel.
Grab your list of questions as an easy download at the bottom of this page, and once you have whittled down your list to your top 2 or 3, meet up with them in person or over Zoom/Whatsapp and get down to the nitty gritty with the following 30 questions to ask your wedding photographer.
Questions to ask your wedding photographer
Approach
How would you describe your working style and approach on the day? How long will you take us away for photos and when?
Do they have a way of working or do they wing it? Do they have set times in the day when they do certain things or take certain pictures? (Think formals and portraits) How unobtrusive or demanding on your time will they be? How do they approach your wedding ceremony? How do they photograph your speeches/party? What is their shooting style? Look at their work to back up what they are telling you and read their reviews.
If you love mainly unposed photos, look for these in their portfolio, slideshows and albums. If poses are all you see, then they may have a more traditional photography style than you are looking for.
If your style is mostly candid, will I still get formal, posed portraits (and vice versa)?
Decide which you prefer before you speak to your wedding photographer. If you prefer candid, unposed photos with a small number of formals and portraits sprinkled in, then choose a photographer who is passionate about these as well. A leopard can't change its spots and neither can a photographer change their shooting style, so to avoid disappointment, book the photographer with the most similar vision.
Have you shot at our wedding venue before?
Most experienced photographers will be able to adapt and shoot anywhere and in any light conditions and produce consistent results. In fact, sometimes shooting at the same venue over and over will impact their creativity as they recreate the shots they took the time before. It's better to ask if they have shot at the type of venue like the one you have booked as that will give you a good idea of what they can produce in that setting. And keep an eye out for their favourite venues if they have them.
Have you shot our kind of wedding before?
From catholic church ceremonies, to tipi weddings, to Asian weddings, to Jewish parties, to elopements and destination weddings, to temple blessings. Each wedding is unique and brings with it its own challenges on time, light and sometimes even location. It might affect the angles that the photographer can shoot from, and which bits of your day they aren't allowed to shoot at all. It helps to know your photographer is comfortable with the main steps and hoops that your wedding involves.
What happens if you can't make it?
Find out what their process is in the unlikely event that they are unable to make your wedding day. Will they send a replacement photographer? How long will they stay? Who will edit the photos? Who will be your main point of contact after the wedding?
What information will you need from us before the wedding?
Each photographer works slightly differently, so find out what they will need from you and when.
Portfolio
Can we see full wedding albums or gallery? Are all the images yours? Can I have some references or see some reviews?
This one should go without saying. Any photographer that can't show you their work should be a red flag. Look through a couple of examples and check for consistency, style, approach and the vibe you get.
Full galleries or even a wedding slideshow on their website or youtube are great. Are these the type of photos you would like from your wedding day? Can you imagine yourself in the images? Can you feel what the day felt like from their photos?
Timings
What are your turnaround times & milestones and what will we get when?
Each photographer has different turnaround times. Make sure you know what to expect from the photographer of your choice.
What is the booking fee and total fee? And when are they due?
Different wedding suppliers have different payment terms. Know what you have to pay when. What is refundable, what isn't, and for how long? What are the cancellation terms? And with Coronavirus still looming large, do they charge if you have to postpone for some reason? Do they offer payment plans?
How long after the wedding do I have to pick my wedding album photos? Are there any penalties for going beyond this time?
If your wedding album is included, your photographer might have a clause in their contract that states the timescales for you to choose your favourite images. Time flies fast after your wedding and picking your images might take you some time. Make sure you know what penalties (if any) there are for going beyond the agreed interval just in case life gets in the way.
What do you need from us to finalise our booking and when? What documents will we receive from you?
Once you're sure which photographer you prefer, ask them the next steps. Although the main steps will be the same for all wedding suppliers, your wedding photographer might have a couple of extra steps here and there that they need you to complete to finalise your booking.
Specifics
Do we have to provide a meal for you/the second photographer?
The short answer is yes but it doesn't hurt to ask. Most photographers will spend 10-15 hours with you on your wedding day, travelling to you, between venues and getting home. They will then back up all of your photos multiple times and only then go to bed. All on a single meal during the day. Keep your photographer watered and fed and you photos will be so much better for it.
How long will our wedding gallery be live?
Photographers pay for online storage of your wedding photos and this storage isn't cheap. Your package should include your wedding gallery for a certain amount of time, after which they will either archive your photos or offer you the chance to take over the cost of keeping it live. It's good to keep one online backup of your photos, just in case, so think about this if it's something you're interested in.
Will you be my actual photographer, or will it be one of your associates?
Most photographers will offer you an associate from the start if that is their business model. Find out if the person you like and connect with is actually the person you will be spending the day with.
How will I receive my images?
Technology moves on fast, so make sure you know if you're getting an online gallery where you can download your images, a USB, a wedding album, prints or a combination of these. Are they included or are they extra?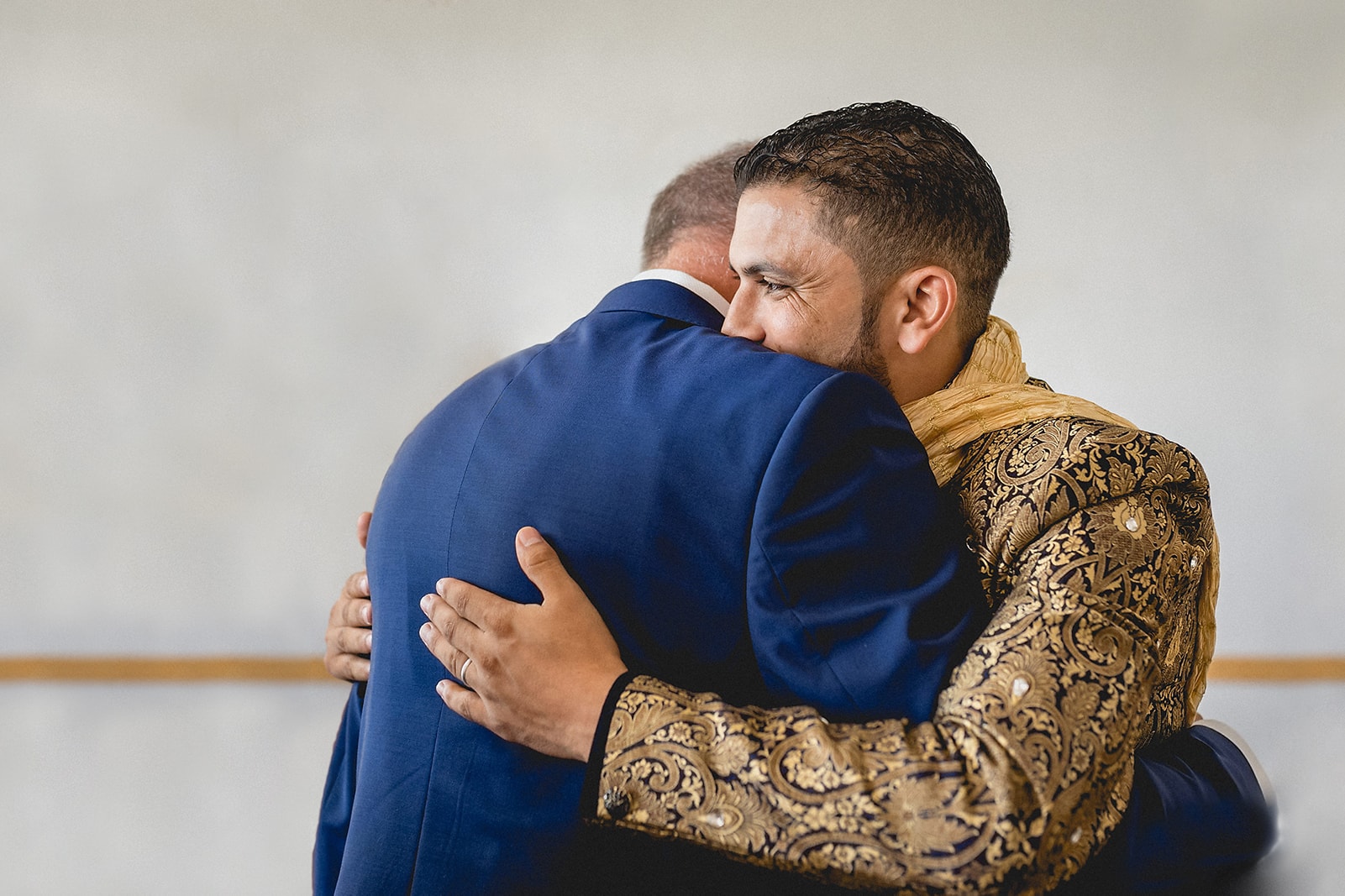 Package
What exactly is included in your package(s) and what isn't?
In order to make an informed choice, compare apples to apples. Compare packages based on:
Number of photos you can expect
Is travel included?
Will there be a second photographer or are they extra?
Is an engagement shoot included or is it extra?
Does it include a wedding album? What kind and do they design it? Who picks the images? How much are they if they are not included?
How many hours of coverage do we get? What is the charge for overtime?
Some wedding photographers have a set number of hours, some offer full day coverage. Understand what they offer and how much it's going to cost you like for like and choose the one that closest meets your needs.
Can we request certain images to be taken?
Make sure you are all on the same page about what is expected in terms of formals. I have photographed weddings with an arm long list of formals and some with none at all. Discuss the photographer's approach (see above) and how they work when it comes to formals and if they're happy to meet your needs.
Personality and how you gel
Once you've gone through the questions to ask your wedding photographer, it's time for a gut check! Review your shortlist of photographers and ask yourself:
Do I feel a positive connection with this photographer and their work?
Am I comfortable and confident with this person's work?
Do our personalities gel? Would we be comfortable grabbing a drink with this photographer?
Did they communicate well and in good time?
Has this photographer listened and addressed my concerns?
Is there anything stopping me from booking this photographer?
Do I trust this photographer to capture the biggest day of my life?
Do I prefer their package above everyone else's?
Are they within our budget or can we stretch to it?
Finally
Choosing your wedding photographer is a hugely personal choice and has a massive impact on your day and how your memories will be captured, so making sure you are completely sure and comfortable with the person you choose as well as with the package you decide on is super important.
I hope these questions to ask your wedding photographer will help you find the best photographer for you and your day.
If you have any further questions, if you think I've missed any off this list, and if you would like to book in your wedding photography with me get in touch now.
And don't forget to grab your free downloads below.
30 Questions to ask your wedding photographer downloads
Complete list of 30 questions for your wedding photographer you didn't know to ask