As an international wedding photographer, I get to see some pretty amazing places, but Martin and Elisaveta's Bulgarian monastery wedding was truly breathtaking. This lovely couple had their civil ceremony the previous week, and this was their church wedding. And what a church! It is nestled at the centre of the working Troyan monastery, which is in the heart of the Balkan mountains. Call me biased, but the views over the peaks will seriously stay with me for ever.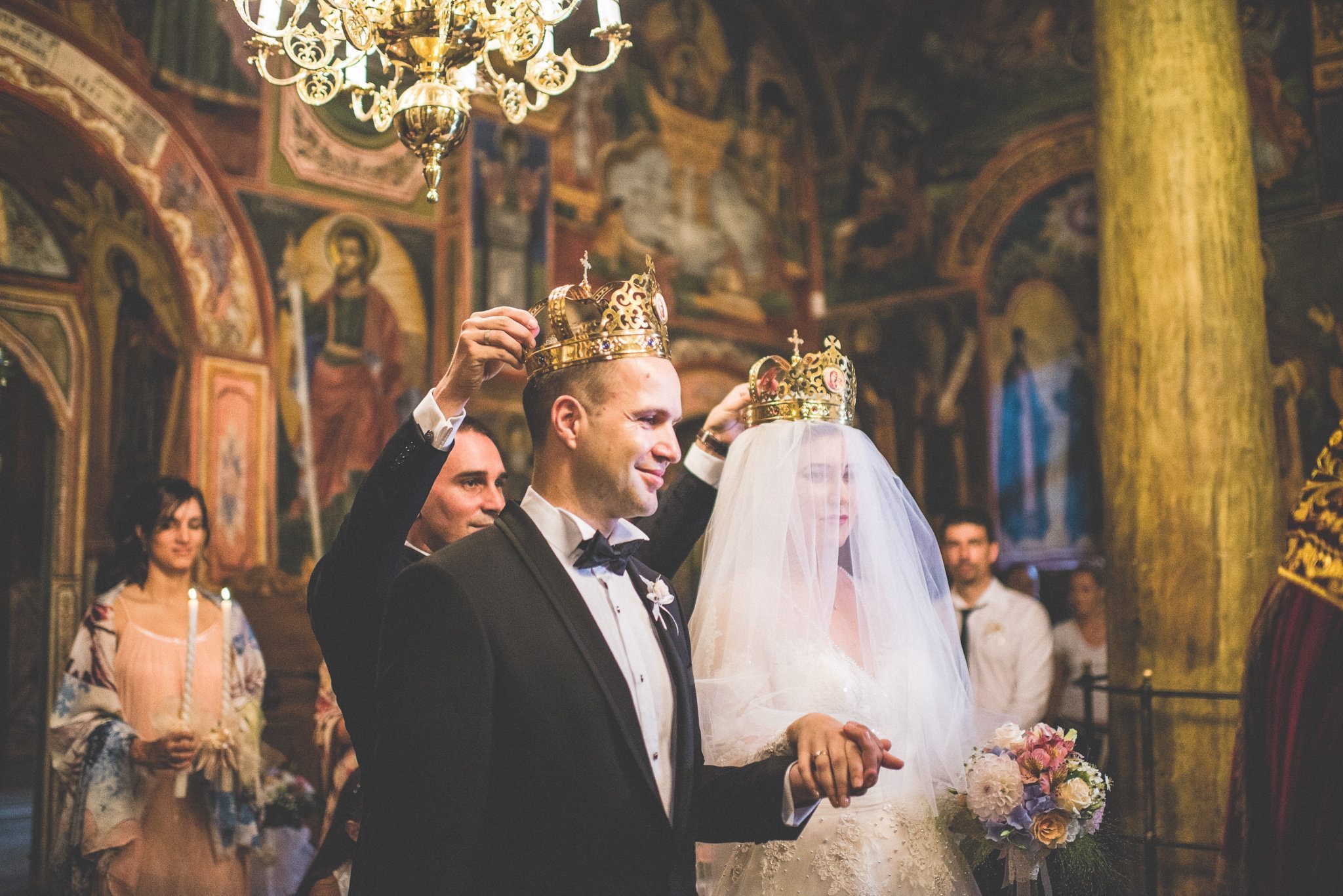 The building was decorated with stunningly intricate, hand-painted murals. These made for some of my favourite ever shots. The monks continued going about their daily tasks among the old cobblestones of the courtyard even during the wedding. And I found their presence immensely calming.
The church was bustling with people, and only few of them were guests for the wedding. Members of the public were also present, sharing in the couple's special day and sending their prayers to the many religious icons surrounding them.
Better than confetti…
Now, you know I looooove a good confetti shot, but Elisaveta and Martin chose not to go with petals or colourful paper and instead went for something that was, dare I say it, quite cool. The newlyweds released white doves, and I loved watching them fly over the rooftops and out towards the mountains. It was poignant and beautiful. (and on that note, check out those crowns!)
The party moved on to dinner, and Martin's brother, who owns several restaurants in Sofia, catered it brilliantly.
This Bulgarian monastery wedding was intimate, personal and stunning (quick shout out to Elisaveta's bridal look and that statement dark red lip. GORGEOUS!). The couple and their families made made me feel so welcome, and I loved every minute of the day.
If you're planning your adventurous destination wedding and want a photographer with a love for travel, exploration and having a darn good giggle together, why not drop me a line and say hi?
Orthodox Bulgarian Monastery Wedding Favourites