If on your wedding planning journey you've set your heart on a really intimate wedding, whether it is due to the emergence of Covid-19 or because that was the plan all along, you are joining the spearhead of a new and emerging trend. More and more couples are choosing celebrations with a lower number of guests, and there is a clear rise in micro weddings, minimonies and elopements. You might be wondering, how do you have a micro wedding and is a micro wedding right for you? Read on, friend.
What is a Micro Wedding?
Let's start at the beginning. There are 3 types of micro weddings that are all about maximising intimacy on one of the most important and special days of your life.
The Elopement
An elopement usually only involves the couple and their photographer. It is a much more relaxed affair that focuses solely on the couple, their chosen location and the expression and confirmation of their love.
Elopements can often be a lot less involved in terms of planning, bar any travel and accommodation plans you may make to your chosen elopement location. They give you the most freedom to have a great adventure that is all about romance, while always leaving the option for a killer party later without the wedding price tag.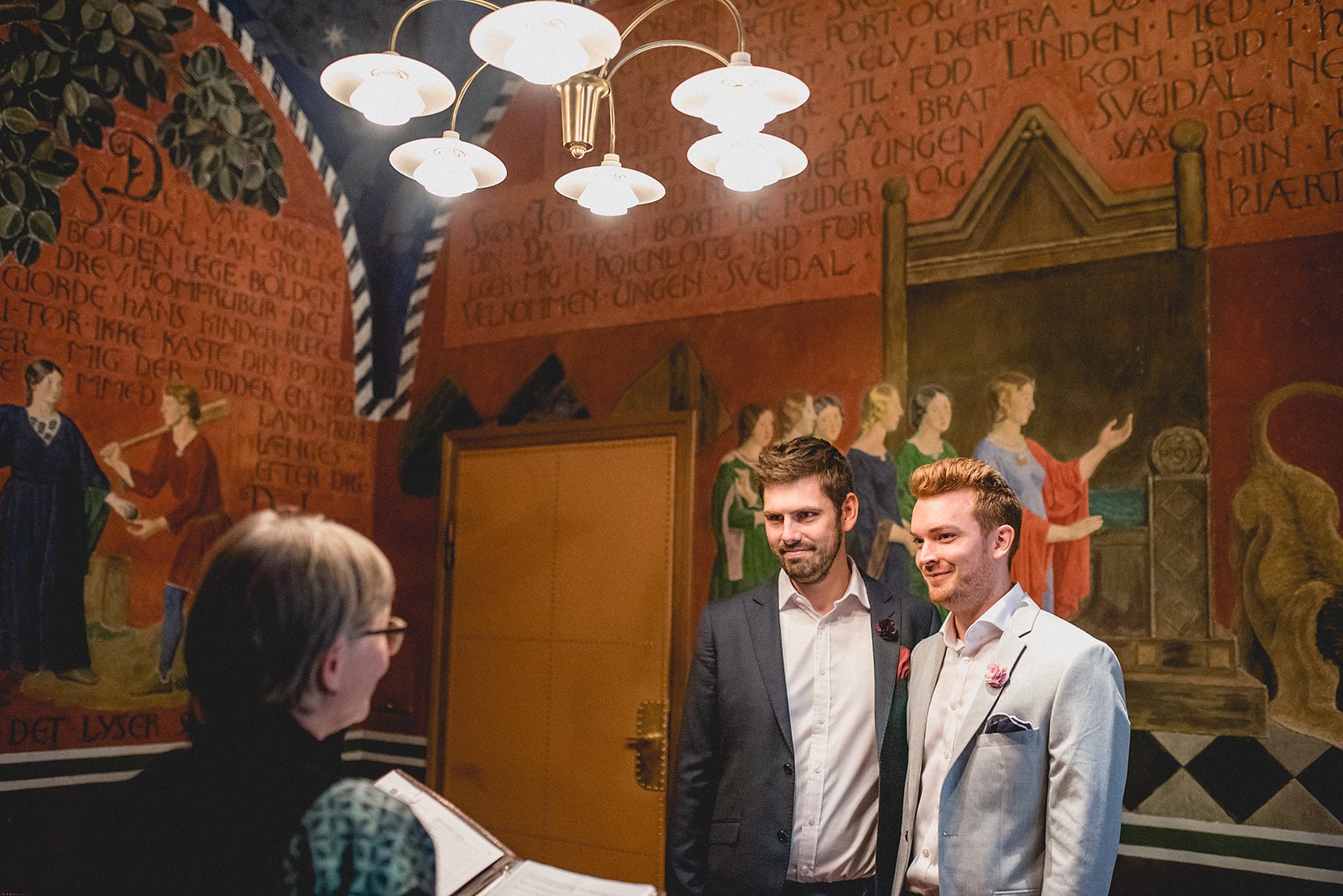 The Minimony
A minimony (short for Mini Wedding Ceremony) has been around for a while, mainly in registry ceremonies, where often numbers can be very restricted, although they are also easily done in a church setting. And of course, Minimonies have seen a huge spike since the start of Coronavirus with many registries only allowing up to 6 people in the room. That really just allows for the couple, and their parents, or witnesses, and their lovely photographer, whichever they prefer.
The beautiful Hever Hotel Minimony below was witnessed just by the bride and groom's immediate family and everyone was really emotional and heartwarming.
---
Pro Tip:
Live streaming has come a long way and is now a really viable option if you would like all of your loved ones and friends to witness your ceremony, but your registry or church can only allow or accommodate a small number of guests. It just needs 20 extra minutes before the ceremony to setup and saves an HD recording of it for you to view and share later again and again.
I offer ceremony live streaming as a standalone option, as well as an add on to any of my photography packages. Let's chat about live streaming your wedding ceremony today.
---
Often this can be combined with a small wedding reception afterwards, where more people can attend. Or you can always have a much larger party with a blessing or celebrant ceremony some time later when your purse is replenished and restrictions are lifted.
Minimonies allow for lots of personal touches and although they're not as easy-go-lucky in terms of planning as an elopement, they are still really uncomplicated on the planning side. With very few suppliers involved, the planning can be as painless as finding a venue, your photographer and your flowers. Throw some music, food and lawn games into the mix and you're all set. And don't forget your friends at the reception.
The Micro Wedding
Micro weddings are weddings with up to 30-40 wedding guests. The upside is that you only have to organise one shindig. The downside is that micro weddings usually involve the same amount of planning as a larger wedding, including all the usual suppliers, just with fewer wedding guests in the mix.
That doesn't mean that you can't make it your own or make it very special. In fact, often fewer numbers can mean that you are able to spend a little more on making it truly your own and add the personal touches that might be too expensive or involved on a larger scale.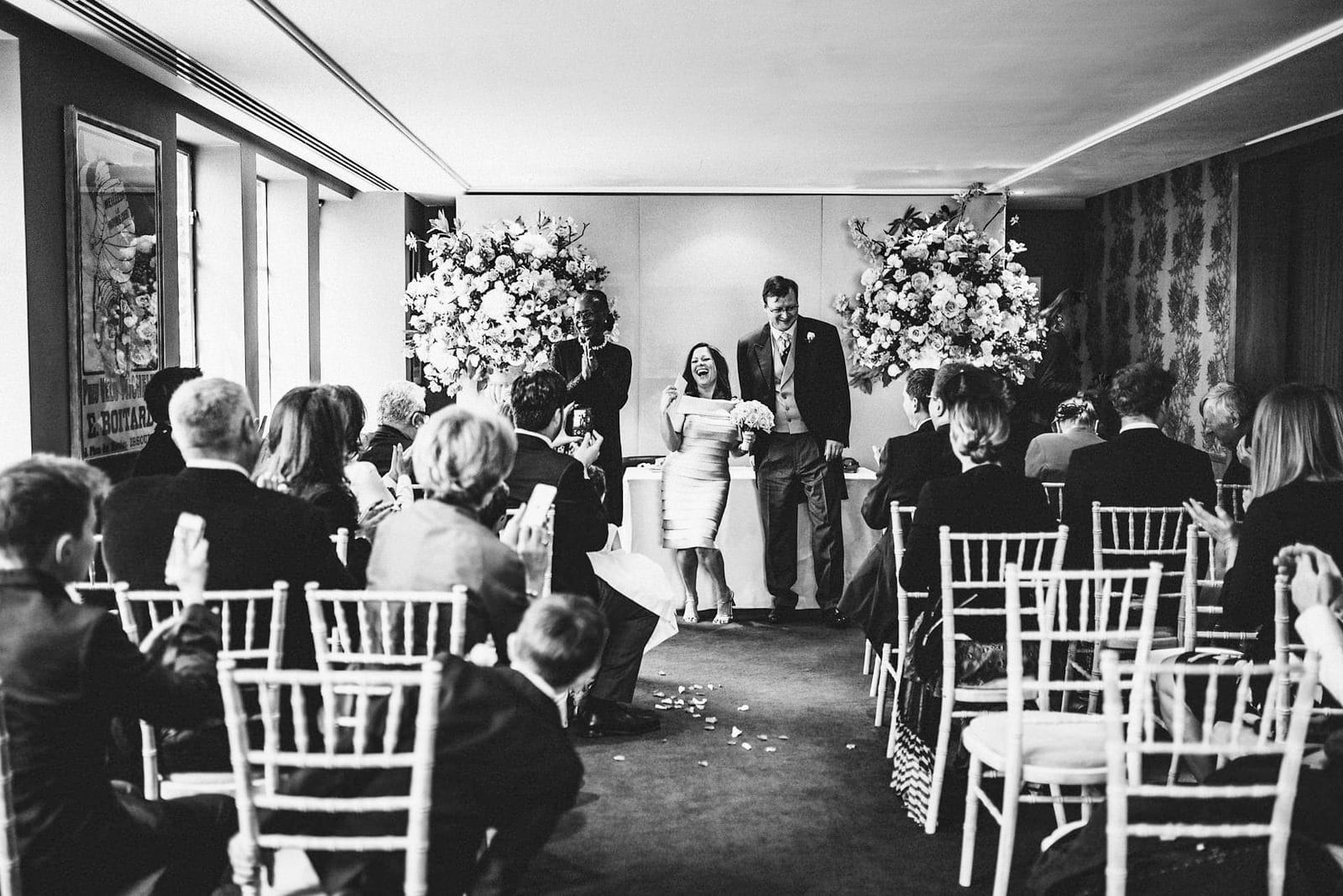 What to keep in mind?
Weddings up to 15
With the new Covid19 government guidelines due to Coronavirus, weddings can currently only include up to 15 people. This includes you, your wedding guests, your registrar and officiant, your photographer and any live musicians, DJ or other suppliers. It does not include a venue's catering staff however, which is helpful, if you're planning to have the reception at an official wedding venue.
Read more about what to do if you're wedding is affected by Coronavirus.
Social distancing
From spaced out seats during the ceremony to bubbled tables during the meal, social distancing is really important. You will have to take this into account when you make your table plan if you are planning a sit down meal.
You can always fill the spaces with more flowers, which will make it all prettier too, but the hugs will have to wait until we are all in the clear again.
Masks & Anti Bac
Currently, everyone bar the bride and groom and registrar/officiant need to wear a mask or face covering during the wedding ceremony, whether it is an elopement, minimony or micro wedding.
Thankfully the weather has been amazing, so if you plan an outdoor reception and keep social distancing in mind, everyone can at least take them off afterwards. Just have lots of antibacterial gel to hand so that both you and your guests can apply it throughout your celebration and stay safe from infection. It may not seem the most romantic thing to do, but with all sorts of cute bottles, you could actually make it part of your wedding theme and as fun as you like.
Where to have a Micro Wedding?
The beauty of micro weddings is their flexibility and they are so gorgeous wherever you have them.
You can elope to any country or location where you can legally get married, both in the UK and anywhere else in the world.
From the beauty of the Mediterranean, to the luscious beauty of Ireland, to the wilderness of Iceland or the US, to the colourful streets in Denmark or Asia, the world is your oyster. Read all about the 2 beautiful grooms below who eloped to Denmark and had their ceremony at the stunning Rådhus registry in the heart of Copenhagen.
Have an adventure and spend some time exploring with your photographer to get some incredible photos. Covid-19 might have scuppered most major travel plans, but where there's a will there is always a way.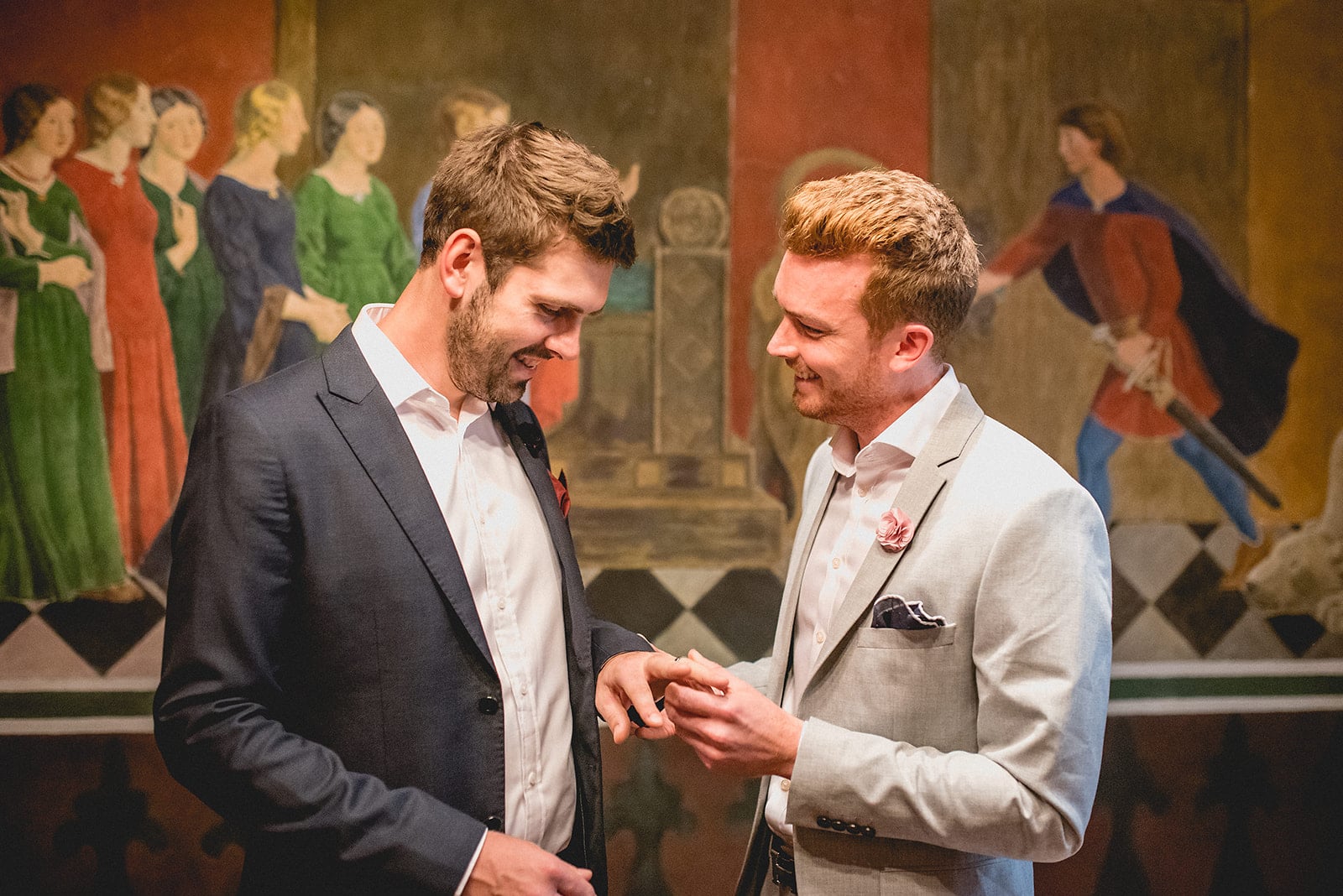 Minimonies are a little more restricted due to the availability of the registry or church you have chosen, but once the legal bit is done, head out for a brilliant time for photos with your photographer or head back to the venue of your choice to meet a larger group of guests to celebrate with.
It's the best of both worlds.
Have your Micro wedding all in one place with an officiant, or split it with a registry or church and a separate reception venue. There are so many options and it can be as easy or as involved as you choose to make it.
Have your micro wedding at home as an English garden style wedding for example. It is so easy, flexible, personal and beautiful. You can have high tea instead of a full wedding breakfast. Or if you want a mess-free great social distancing option, choose a spaced out picnic with your guests or a delicious food truck. Yumm!
Or have a micro wedding in many of the wedding venues in London, Kent or the South of England that are now offering micro wedding packages too. For example, Blank Canvas Venues have started offering a gorgeous newly converted barn at Littlefield Manor that is the perfect venue for a Minimony or Micro Wedding. But also larger venues, such as the RSA in Central London have adapted their offering to cater to couples planning an intimate wedding. Whichever venue you have your heart set on, it's always worth asking what they're offering for Micro Weddings.
This will make your planning a lot easier and the venue will help you manage the social distancing side during your ceremony and reception really well.
Now if you're wondering what you need to plan for for your Micro wedding, check out the Micro Wedding Planning Checklist or grab your copy here.
And get in touch today if you're looking for a photographer for your Elopement, Minimony or Micro wedding. I can't wait to hear all about your plans.
Micro Wedding To Do List
Because micro weddings involve fewer suppliers and guests, the Micro Wedding Planning Check List is simpler too.
Bonus!
Here's what you need: