There are some really incredible venues in the South East of England, and I'm lucky enough to have several of them on my doorstep. Coltsford Mill is one of these and it's a humdinger. The ceremony room showcases the original mill workings, which are a really unique backdrop for your marriage vows. There's a lovely big barn for the reception and gorgeous grounds too, especially in autumn. It's absolutely perfect for a laid-back, rustic wedding all in one place. And Tiffany and Joe's wedding fit the bill to a tee. I had such fun shooting their autumnal Coltsford Mill wedding, and I think it shows in the images.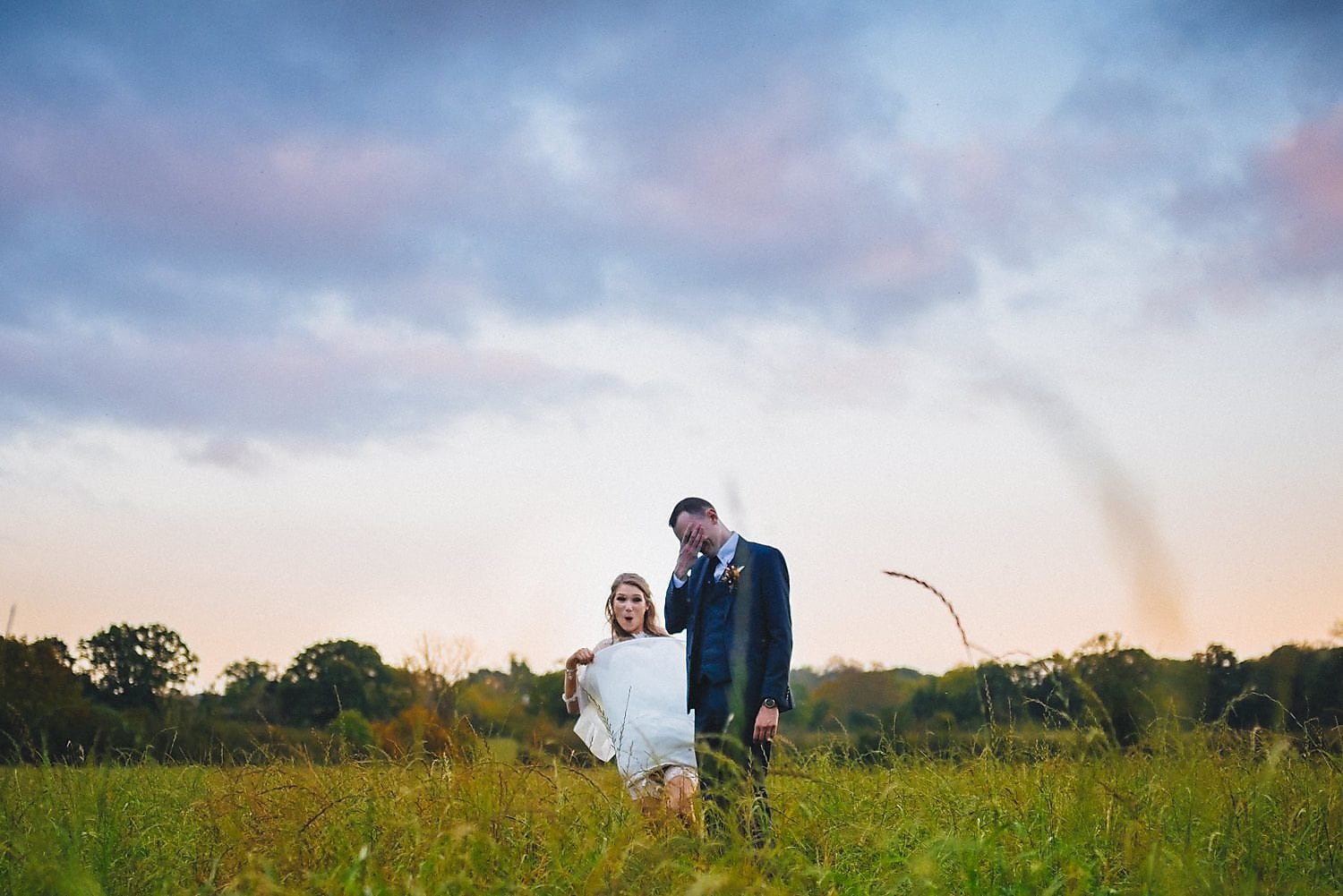 Tiffany and Joe are my favourite kind of couple. Clearly smitten with each other, they were surrounded by the happiest set of family and friends. As you might have seen from my Lyde Court Winter Wedding I'm a big fan of just being yourself and letting your funny self shine through. And these guys did just that – completely unafraid to let loose and have a proper giggle.
I first joined Joe and his boys at his local betting shop for final preparations and a few sneaky pints. Tiffany and her bridesmaids got ready at the Mill itself, and watched the guys arrive with lots of giggles.
A ceremony in the Coltsford Mill works
The ceremony was really happy, and the bride, groom and guests beamed from ear to ear. It's always infectious to be around so many smiles and by the end of the day my face ached from grinning.
Some enthusiastic confetti flinging led to drinks and canapés and lots more laughter. The kids at this wedding were adorably mischievous too, and it was lovely to see them have fun.
A gorgeous canapé of leaves and tall grasses covered the grounds and Tiffany and Joe just had to take a moment and stroll through the golden leaves. We were so lucky with the weather at this autumnal Coltsford Mill wedding and what a gorgeous sunset we had!
Then it was time to party and all I can say is wow! I've rarely seen so many hilarious moves on display. As the night wore on, the guys (and the bride) snuck off for a celebratory cigar, before hitting the dance floor again.
If you think your wedding will be as much fun as this autumnal Coltsford Mill wedding, then I want to hear from you. Get in touch to chat all things wedding and photography, and let's make some magic happen.
Relaxed and Fun Autumnal Coltsford Mill Wedding Favourites