"We love our photos. Thank you so much for all your hard work. They are all perfect and capture our day amazingly.
We are so grateful for everything and would recommend you to anyone! We feel very lucky to have met you.
Love Laura & Andy xx
Getting ready
Laura got ready with her bridesmaids, and the atmosphere was full of excitement. The room was buzzing with anticipation and there were champaign cheers and happy tears aplenty. Andy got ready with the boys and couldn't wait to meet Laura at the end of the aisle. He travelled to the ceremony first, followed closely by the girls in their awesome rustic VW van. A very excited tiny ring bearer ran up the cobble path at the rustic Kent barn and greeted them with lots of hugs. Sooo cute!
Getting hitched
Laura and Andy emotional wedding ceremony was framed by beautiful readings from friends and family that had everyone in tears. The only thing left then was for the guests to shower the happy couple in a bucket load of confetti, which was just hilarious fun.
The afternoon
The reception and party took over the beautiful grounds and the central barn at the venue. They chose this rustic Kent barn because it's so cosy and relaxed and they could totally personalise it. Aiming for a wedding with lots of rustic details, they used lots of colour, picture frames, candles and bunting, and made it completely their own. They also had the cutest paired centrepieces and wedding favours. They placed awesome Honey Bee Vintage Teas in conjunction with Bluebell Floristry flowers on each table, and each guest also got a personalised bottle of cider to go with the tea.
I love shooting Barn weddings because there's always such a great atmosphere. Everyone lets their hair down and just enjoys the gorgeous surroundings and the relaxed celebrations.
This emotional summer rustic Kent barn wedding was no different!
Apart from scrumptious drinks and canapés, they also had a cracking magician that had the guests in stitches and what can be better than that?
Celebrate the love
The speeches went from funny to touching and led the day beautifully into the evening festivities.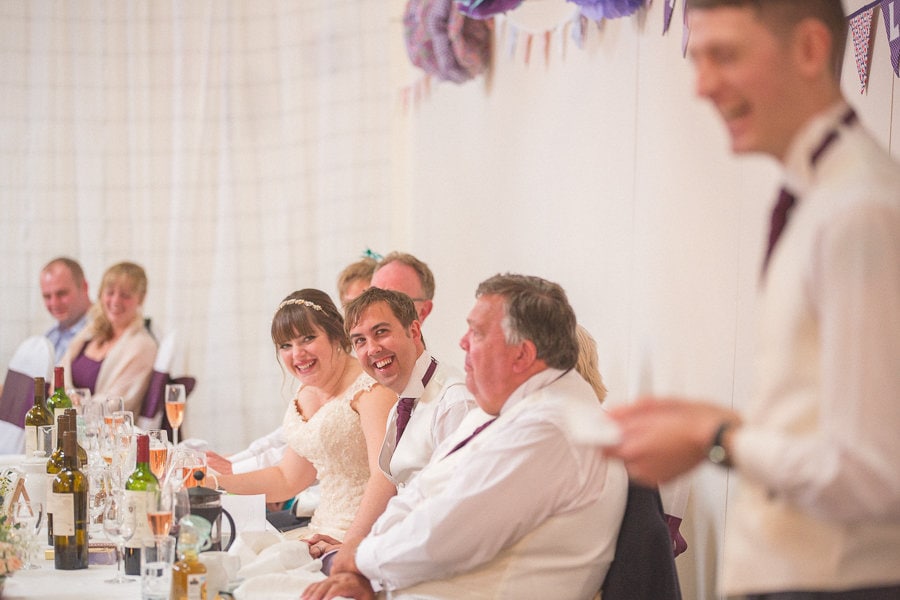 For dinner they had a hog roast and fresh Cornish ice cream, and everyone gobbled it down in seconds. And the first dance was a good old traditional wedding shuffle that led into one hell of a party.
The only thing left at the end was to sneak away for one last late night cuddle before catching those carriages back home and putting their very tired feet up.
Laura and Andy's emotional summer rustic Kent barn wedding was such a laugh and so laid back, it reminds me of Katie and Sam's autumnal barn wedding day and Kate and Tom's Winter Barn wedding so much!
If you're planning a farm or barn wedding, then let's have a chat because I would love to be your photographer for the day!