Let's talk confetti and Covid safe confetti alternatives. Confetti is that lovely, colourful, fun stuff made of paper, petals, leaves or lavender blooms etc. that people pick up, hold in anticipation, smile and wink at each other and then literally throw in your face. It is a barrel of laughs and always a gorgeous moment at a wedding. However, due to the Coronavirus pandemic, things have changed and it might be time to break the mould.
Hand washing and the use of hand gel is now a constant thought at the back of our minds. Social distancing from friends and loved ones that we are not bubbling with and the things that they have touched is the new normal. So being showered with stuff that your guests, who are standing 2 meters apart, have just held and squeezed without the opportunity to wash their hands first might not be the best idea at this time.
However, there is a solution! These 5 unusual & fun Covid safe confetti alternatives will make your heart sing and make you want to do your confetti again and again.
Confetti cannons, confetti poppers & confetti cones
If you have your heart set on confetti and nothing else will do, get yourself some confetti canons and confetti poppers. By letting your guests pop them as you exit your ceremony, contamination can be kept at a minimum, while everyone has all the fun.
There are so many beautiful options from colourful paper to natural biodegradable petals that come with a pop, like these pretty confetti cannons from Adam Apple Confetti. Just check with your venue that they are happy with you using them.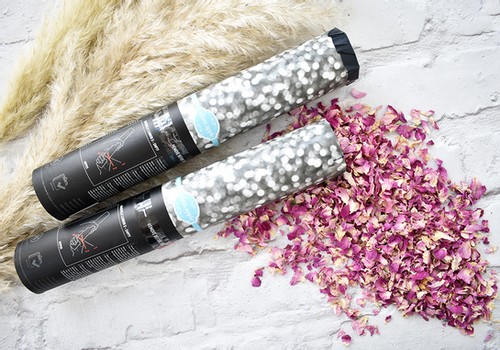 A little more traditional but equally as fabulous are confetti cones. Guests can hold the cones and then throw the confetti without touching any of the petals. Just make sure they are big enough, as the cone shape usually means that not all of the confetti immediately manages to make its way out.
Bubble machines
Everybody loves a bubble! It is an undisputed fact. However, blowing bubbles unfortunately has much the same issues as throwing confetti. You are not allowed to sing hymns or hold loud speeches for the same reason.
This is why the bubble machine or even a number of them is a great idea. Have a couple of your bridesmaids and ushers turn them just before you walk down the aisle, and surprise your guests with a spectacular and, if you ask your nieces and nephews, a magical exit to your ceremony. Or set them up at the door, so they frame not only you leaving but also your guests' exit and you'll have everyone smiling.
Say yes to the Bubbles!
Bells
Bells are mess free and such a pretty confetti substitute! They're also a really nice little favour for your guests to keep after, so there is no unnecessary handling. Hang gorgeous little bells on a board for everyone to collect as they arrive for your ceremony. Or better yet, hand them out with your programmes and let your guests ring them as you walk out. It's memorable and equally as fun without any of the downsides or mess of real confetti and works beautifully for large weddings as well as micro-weddings. And who can resist the tiny jingle of a pretty little bell?
Bobbing balloons
Helium balloons are a pretty way to add some fun and dress up your ceremony and can provide a beautiful frame as you walk down the aisle together. Tie them to the back of chairs or give your guests a balloon each to bob as you walk past them. If you have children at your wedding they will be popular beyond belief. ALL the fun.
Twirling Ribbons and Wedding Wands
Perfect for a boho, rustic or elegant wedding, twirling ribbons are a really effective way to create some drama as you walk past, while keeping your Coronavirus exposure to a minimum. Wedding wands and twirling ribbons can easily be matched to your colour scheme and wedding theme and are mess-free, super pretty and definitely something you won't see at every wedding. Unique for sure and maybe not for everyone, but twirling ribbons will give your wedding a touch of chic and glamour that other confetti substitutes might not.
Please comment, share and pin on this post if you've found it useful and if you're looking for a photographer to capture all the fun and laughter while you and your guests enjoy your unusual & fun Covid safe confetti alternative of choice, give me a shout. I can't wait to work with you.