As a destination wedding photographer I am very fortunate to capture not only destination weddings, but often also destination pre-wedding shoots. Sometimes the surroundings simply beg for a couple to be photographed, and luckily with the lovely Sascha and Steffen around, we could sneak off for a Black Forest evening low light couple shoot
A stunning Black Forest evening low light couple shoot
While I was in Germany over Christmas I stayed close to Titisee in the amazing Black Forest, or more ominously known as the Schwarzwald. There beneath the clean, clear skies and surrounded by a canopy of truly black trees the breathtaking nature, the beautiful views and the stunning sunsets can't help but inspire.
And then, nearly at the end of my stay, there was a great downpour of snow. It transformed everything from a luscious green into a fluffy white.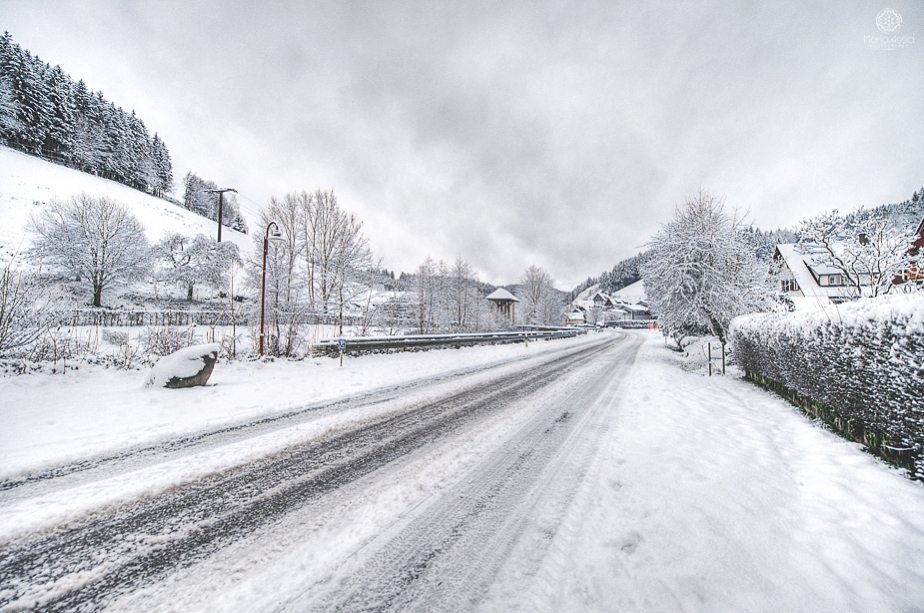 It was strange that there seemed to be a natural barrier to the snow. On one side of this barrier, everything was covered in white, while on the other everything still looked fresh and green. Most people would just cuddle up in front of the fire and enjoy a glass of mulled wine, but it was all I could do to invite Sascha and Steffen to go out with me and capture some frames just before sunset.
As far as evening low light couple shoots go, this was brilliant. We only had a very short time, so we went to a few different locations and played with lots of lighting. I wanted to try a couple of different techniques, and they were game, so the resulting shots are quite different and creative. I love them but here is what Sascha and Steffen thought of the shoot and their photos.
Thank you so much to Sascha and Steffen for giving me the opportunity to capture this Black Forest evening low light couple shoot. I love you guys dearly!
If you are thinking of having a Black Forest evening low light couple shoot or would like some shots that are creative and push the boundaries a little, please drop me a line.
A Black Forest evening low light couple shoot and what it's like to be photographed by Maria Assia
My husband and I spent our Christmas holidays with our family in the beautiful Black Forest in the south of Germany. I had heard the woods would be dark and foreboding, but arriving there just a couple of days before Christmas, we were surprised by the beautiful green hills, bubbling springs, wooden sheds along the side of the road and canopied bridges all around us. These were the locations that Maria sought out when she took us on our first couple shoot since our wedding three years ago. And what a cool evening low light couple shoot it was!
Are you a natural in front of the camera?
Now first let me say, I definitely do not feel comfortable in front of the camera. I don't know where or how to stand, my hands are always in the way, I don't feel very feminine and get up to all kinds of nonsense to hide how nervous I am. But Maria really reassured us. She had photographed our wedding three years before and I have a lovely album to show for it. Every time I look at it, it reminds me of the fun we had on our special day together. Also it's just so easy to trust her. She's super friendly and makes you laugh throughout to help you feel at ease.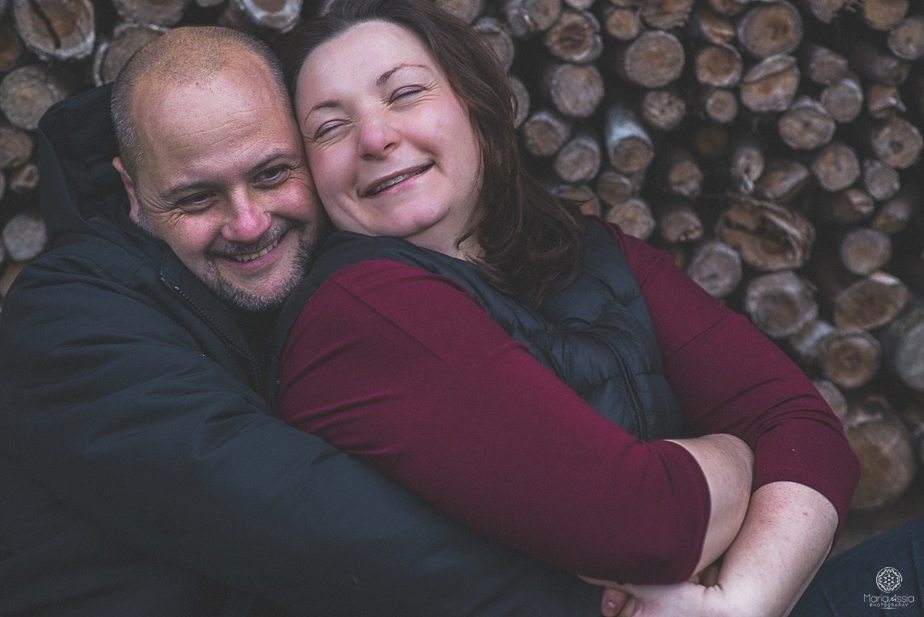 When it comes down to actually taking the pictures a lot of things have to come together. Having the right light is key, as well as being at the right spot at the right time. And these spots Maria had already chosen a day or so before, so she knew exactly where to go and where she wanted us. And then our agreed day came around and surprise, surprise – it had snowed overnight. That changed things up a bit, as now our clothes would look different in our surroundings, not to mention the surroundings themselves. It didn't help at all that our village was knee-deep in snow, while one village over didn't have any show at all! That made choosing our clothes tricky, as apart from being comfortable and nice, I also didn't want to freeze during the shoot.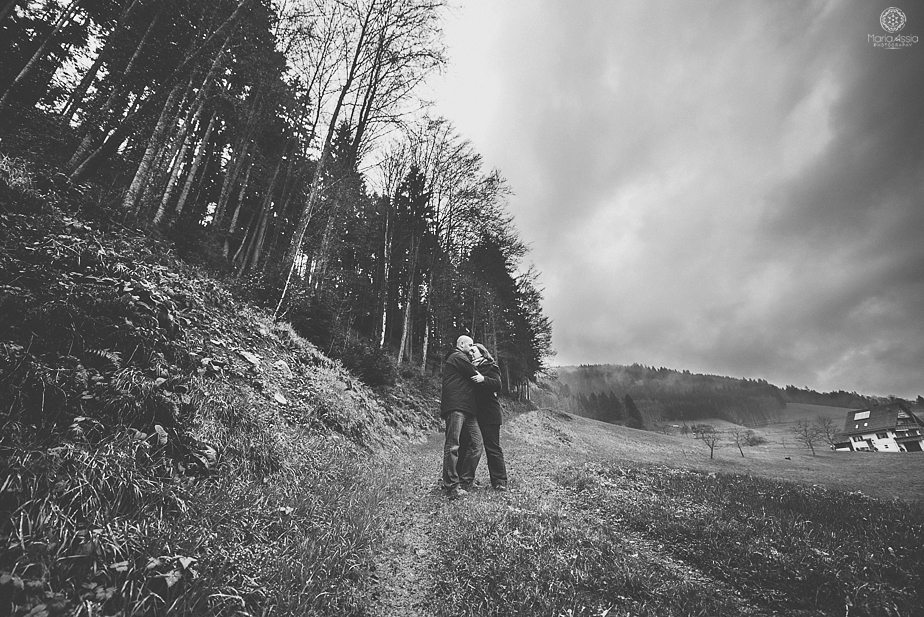 What was it actually like?
So off we went, equipment, lenses, flashes, batteries and gloves in tow. Sounds like a lot, but it all just fit in a small bag. Maria took a couple of test shots and told us where to stand. Apart from that she pretty much let us get on with it and with each other. Holding my husband close and looking into his eyes put me very much at ease, first having fun and then relaxing more and more into what felt like a romantic date. And that was the same for my husband. He really isn't a person of many words so he boiled it down to this – he felt at ease because Maria is a professional, and since she is a professional she makes people comfortable and brought the best out of both of us.
Funnily enough, although I was really worried about it before hand, when the shoot started, I didn't feel like I was being followed around by a camera at all. Maria was there, moving around us, of course, but it all felt very natural, fast, and as if she was in a tune with the camera and her surroundings. During the shoot, she takes photos from many different angles to create images that I could never have even imagined. Flashes changed, lenses and cameras switched and before I knew it, time flew by and the light came and went.
Would you change anything?
If I could do one thing differently, I would have brought a second set of clothes with me. Although I wore comfortable clothes, a top that I like and that suits me, I wish I had brought more colourful options with me. I also wish we had had more time, to try even more experimental shots. Once I got into the swing of it, it was hard to stop. And unfortunately, you can't see your photos right away, which sucks, because I couldn't wait to see them! I was really excited when I saw Maria's email about our photos being ready in my inbox. It was great to be able to share them with our loved ones and friends easily straight from our gallery.
And I love them! Maria yet again captured our essence, our love, our trust and friendship for one another and the importance of fun in our lives. She guided us in this lovely setting and made it part of our experience with each other and with her. And as a reward, we got wonderful, creative and unique photos to take away and keep.
In summary
So if you are thinking about having a couple shoot or Black Forest destination couple shoot, consider this:
You have to trust and feel comfortable with your photographer. Tell your photographer what's important to you and what you don't like. Make sure they are on the same page and find the right surroundings to bring that to light. Then let them guide you.
Choose a time during the day that works for both of you. It doesn't make sense for you to feel like you have to race somewhere afterwards. Also, don't forget to sleep well beforehand so that you look your best.
Don't treat your shoot as an afterthought. What you put in in terms of time and forethought, outfits and accessories makes a huge difference. Put some thought into it and you'll have a shoot with amazing results.
Do you have a special place where you feel comfortable, or where you love spending time together? Tell your photographer so that you can go and meet them there if possible.
Think about whether you want to take your photographer away with you for your destination couple shoot. Although the couple shoot is about you, a special location does add to the shoot.
Above all else, take your time and enjoy it.
Sascha & Steffen xx