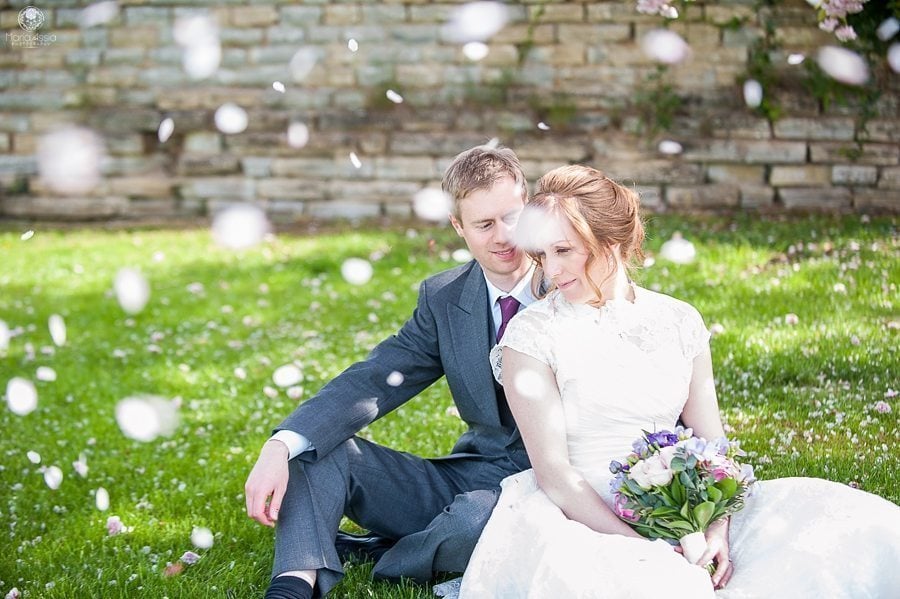 A stunning wedding venue in the heart of Warwickshire for a gorgeous Billesley Manor Hotel Fuchsia Spring Wedding
When I met Helen and Martin for their engagement shoot at Stowe and we spoke of their Billesley Manor Hotel Fuchsia Spring Wedding and how everything was coming together, I knew this day was going to be awesome.
And it really was. I love the juxtaposition of the 100 year old topiary garden with the alternative and fun group shots that Helen and Martin wanted. I mean, come on – tennis rackets! That's a bit different.
They were also super brave and followed me not only into the wooded bit on the Billesley Manor grounds, around the little ponds and the weeping willows, but also into the incredibly yellow but also quite muddy rape seed field.
Seriously! The glorious spring cherry blossoms, gorgeous yellow buttercups and a rapeseed full of beaming yellow blooms made their couple session to die for!
Talk about wanting really gorgeous and alternative wedding photos! That's some photo dedication right there!
And then they had a bluegrass band for their entertainment that didn't leave many people in their seats. Yeeeehaw! (Ok, I'll stop now, hahaha)
Their Billesley Manor Hotel Fuchsia Spring Wedding was really gorgeous and hilarious fun too. The sweets bar made their wedding guests really playful, and the beaming sunshine and fun lawn games earlier in the afternoon had both the young and old in stitches.
You can't really go very wrong with choosing to have a Billesley Manor Hotel Fuchsia Spring Wedding. There's tons of places to go for your couple session both inside and out, and even for an evening shot there's lots to choose from.
The manor can accommodate a traditional wedding, an alternative wedding and anything in between, and as you can see from this Billesley Manor Hotel Fuchsia Spring Wedding it'll look fabulous whatever you choose.
I'd love to shoot a wedding at Billesley Manor Hotel again, so get in touch if you're planning your wedding there, wether it's a Billesley Manor Hotel Fuchsia Spring Wedding or a chilly autumn or winter wedding, or blazing summer wedding.