When you start your wedding planning it can be hard to find the perfect wedding venue for you. There is so much choice in this crazy, busy, beautiful city. And each wedding venue will have a huge impact on how your wedding feels on the day. You might be basing your choice on capacity, proximity to your church or registry office, or you might want to achieve a specific look and feel that only certain venues will offer. As a Documentary London Wedding photographer I have photographed many weddings at both key and niche venues in London. Here I've put together a guide to the best 25 London Wedding Venues. And I hope it might help you narrow down your choice. I've included truly iconic London wedding venues as well as some smaller, less known venues that are true hidden gems.
Obviously, this is just my opinion, based on the character of each venue and the service my couples received there. London has many absolutely mind blowing wedding venues. From buildings steeped in history, to country homes, huge royal halls to unique and quirky pubs and everything in between. I've tried to cover a bit of everything to give you a good spread of ideas, including some that you might not have thought of. So with no further ado and in no particular order, here is my list of the best 25 Wedding Venues in London.
The 25 Best London Wedding Venues
1. The Tower of London
One of the most iconic buildings and venues in London has to be the Tower of London. Brides and grooms that have a connection to the Royal Guard can get married at the church in the centre of the Tower of London. The Church of St Peter ad Vincula is as fabulous as it is iconic. Note that during your ceremony, photos are only allowed from the doorway, so if you want a personal up close feel of your wedding ceremony, this might not be the venue for you. Also, the Tower of London stays open to the public during wedding ceremonies although they block off a perimeter around the church. But you and your guests will be in public sight for some time at least. However, in my experience, on your day you will be so happy, that you won't care too much about that. Then either celebrate at this striking wedding venue or head to another place to party. When you leave, you and your guests will have to walk all the way out of the Tower of London to make your way to your reception venue. With a very handy bus terminal below the entrance, you can easily and conveniently arrange for a London Bus to come and take you to the next stage of your celebrations. At this gorgeous Tower of London wedding, the wedding party travelled to the stunning Counting House Pub, which is full of character and a truly unforgettable reception venue.

2. St. Paul's Cathedral
Similarly to the Tower of London, you have to have a connection in order to get married in the Chapel below the Cathedral. But if you do, what a venue this is! During your ceremony your photographer will only be allowed to take photos from the door while you walk up and down the aisle and also while you sign the register. During the rest of the ceremony, photography is not allowed. You get access to the grounds and gardens surrounding St Paul's Cathedral for your wedding portraits. And since it's located bang in the centre of London, you have easy access to the Millennium Bridge, the awesomeness of Bankside and views of the Tate Modern, the Thames, the gorgeous London skyline, and St Paul's itself of course. From there you can easily travel to any fabulous Reception venue close by. At this joyful St Paul's Cathedral wedding we all headed to 1 Poultry and Coq D'Argent in black cabs, which is so quintessentially London.
3. Kew Gardens
Kew Gardens is one of the most beautiful places as well as wedding venues in London. It squarely deserves its place among the Best London Wedding Venues. Surrounded by multiple stunning Palm and greenhouses and with all the park at your disposal how can you go wrong? It is licensed for civil ceremonies and has multiple options to accommodate different sized weddings, from intimate to huge. Plan a Chrismas wedding at Kew Gardens and their Christmas Lights display will make the most magical and breath-taking background to your photos.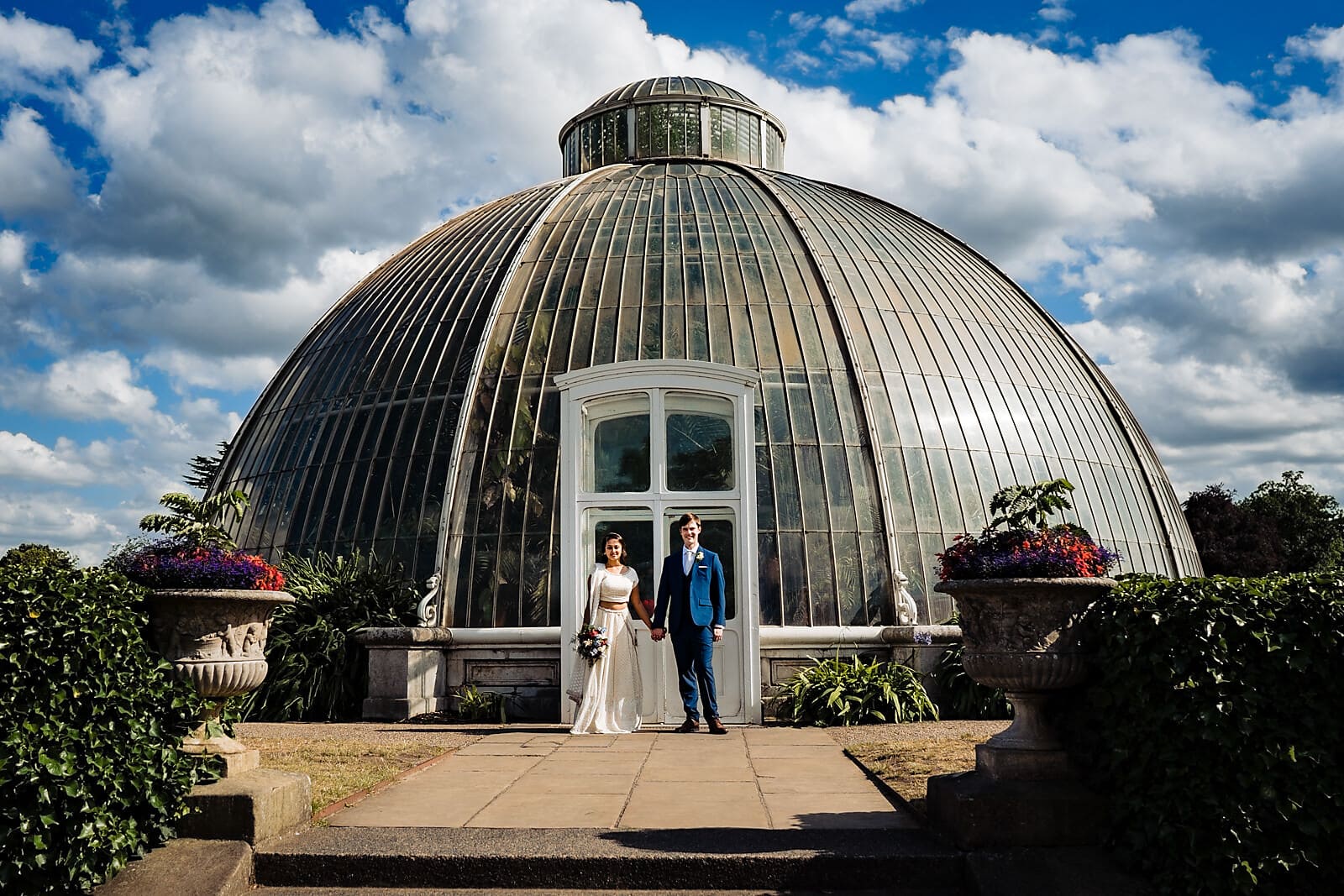 4. Syon Park
So beautiful and exquisite, Syon Park is a dream wedding venue come true. Capacity of its various parts ranges from 12 guests to 800 wedding guests. Its exquisite Great Conservatory will be just the backdrop for your wedding ceremony and wedding breakfast, while Syon House will look like the most magnificent palace in your wedding portraits. With dramatic light in the evening, Syon Park is the perfect venue if you're looking for drama and the most unforgettable setting for your wedding.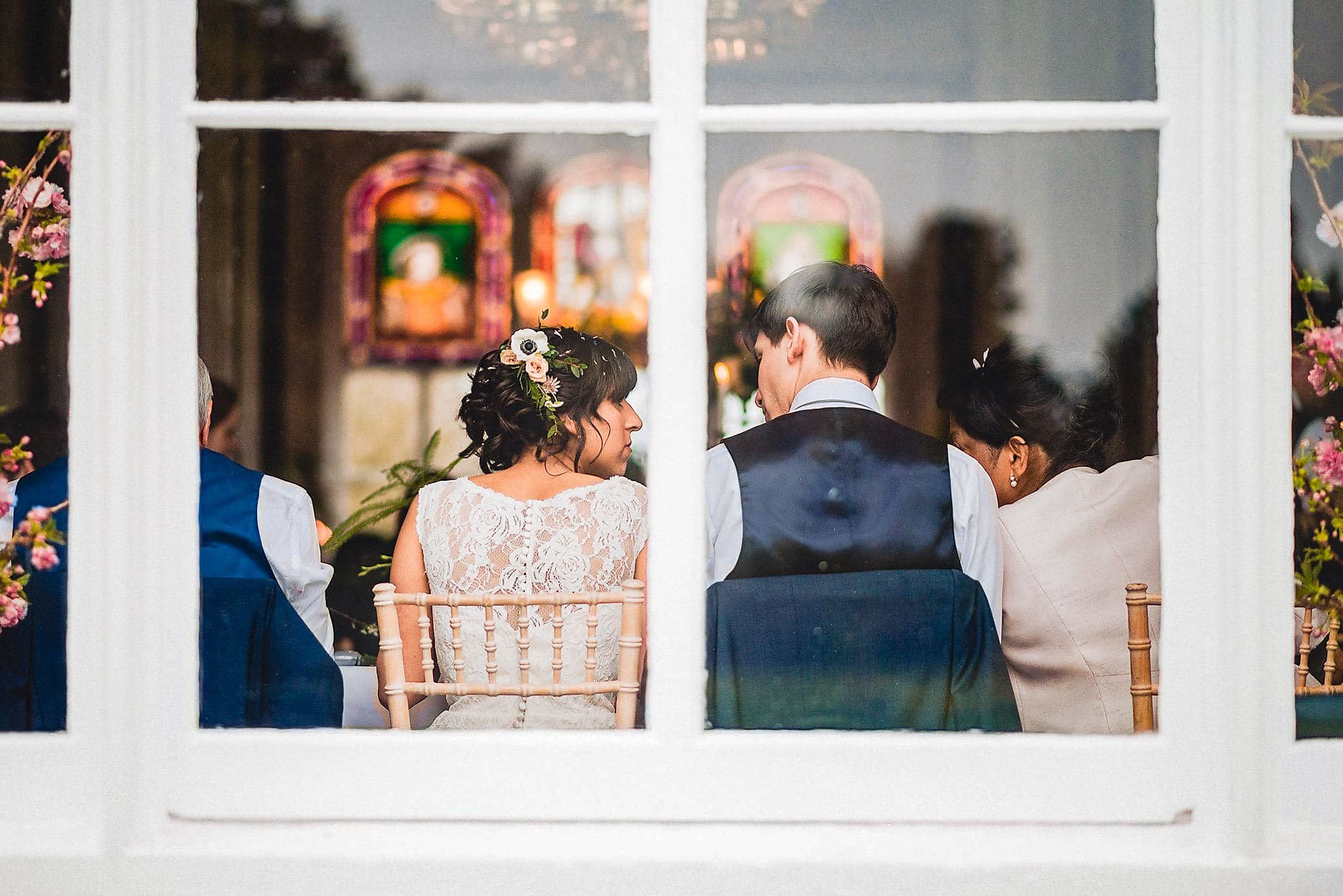 5. The St Pancras Renaissance Hotel
Add opulent rustic chic to your wedding by getting married at the St Pancras Renaissance Hotel. Steel Beams, Red Brickwork and of course the station just outside make for a completely unique setting. With a location like this your guests are guaranteed to faun over your wedding. Take some time to capture your wedding portraits on the stunning staircase in the Hotel and your photos will be immediately recognisable and memorable. In addition, you and your guests can book into the rooms upstairs and not have far to go at the end of the night.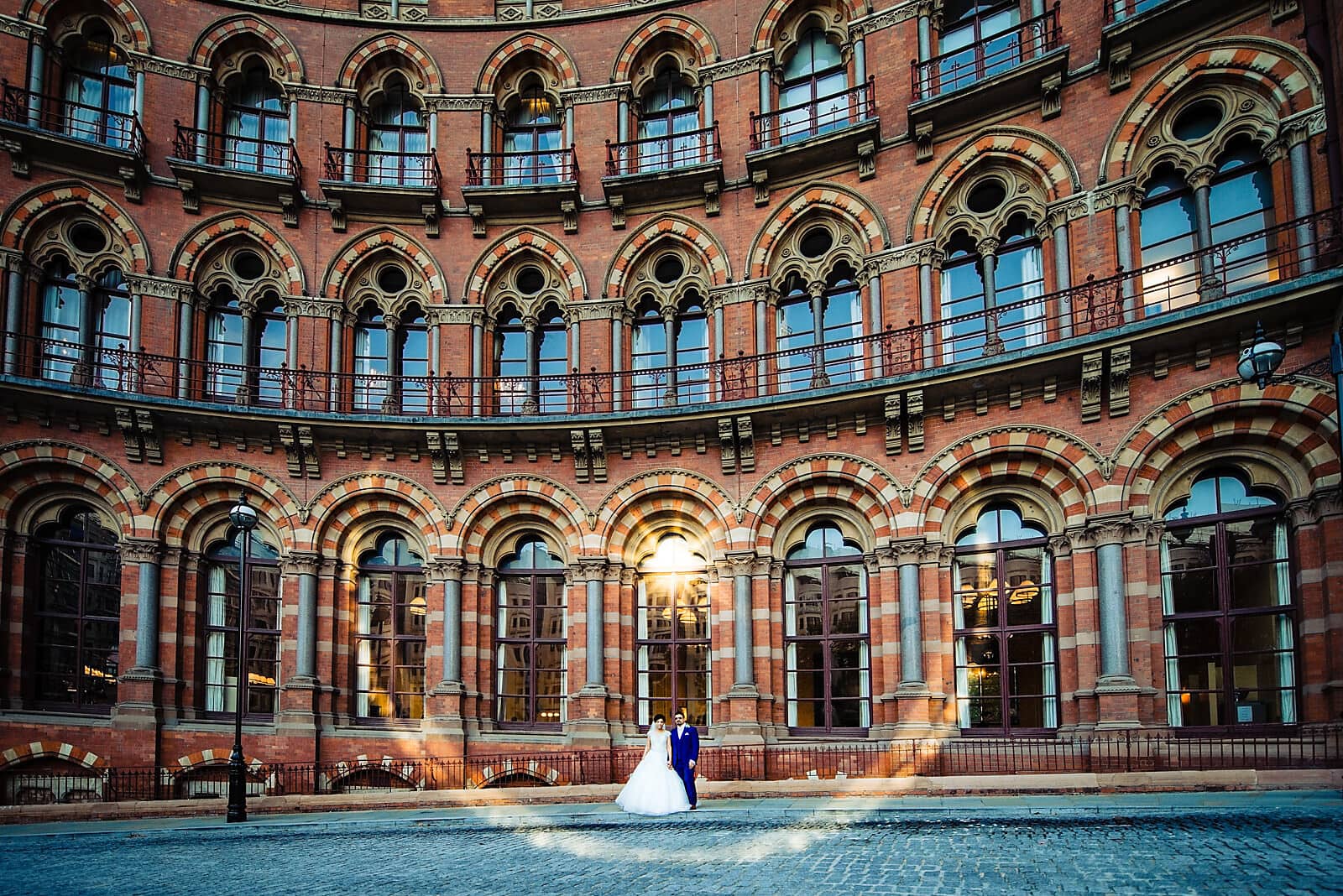 6. Asylum Chapel
If you're looking for shabby chic with a touch of rustic beauty then look no further. Asylum Chapel is exceptional and is licensed for weddings and civil ceremonies, as well as same sex partnerships. It can hold up to 120 guests and while you can have your canapés here, you'll have to travel offsite for your wedding reception. If you love it, but it's just not right for your wedding, why not consider it for your engagement shoot? If you're after a completely unique wedding venue that will wow your guests like no other, then this has to be at the top of your list.
7. The Hurlingham Club
One of my all-time favourite wedding venues is The Hurlingham Club. From intimate high tea weddings to exquisite high-fashion affairs The Hurlingham Club will accommodate any party. And if you've booked it for your wedding, you can also have your engagement shoot here. Read more about it this fabulous venue here. Or take a look at this intimate Hurlingham Club wedding or this exquisite grand wedding at the Hurlingham.
8. Fulham Palace
Just across road from the Hurlingham Club is another amazing wedding venue – Fulham Palace. Fulham Palace is licensed for both for civil ceremonies and religious blessings in their chapel. Enjoy the proximity to the Thames, the incredible grounds and the beautiful manicured flower gardens. The park closes to the public in the afternoon, which means that then you can roam and enjoy the grounds without having to worry about onlookers. Enjoy your canapés in the beautiful historic surroundings of the Palace, then head to a cosy marquee for your reception and party. Best of both worlds. Take a look at this gorgeous colourful Asian Wedding that did just that.
9. The RSA
The RSA (Royal Society for the encouragement of Arts, Manufactures and Commerce) lives up to its name. Quirky and full of cool art, the RSA is a very unique venue. Have your ceremony on the ground floor in one of the sunlit ceremony rooms, then head down to the hidden arched vaults below and you'll be wondering if you're still in the same venue. Alternatively, head upstairs to the incredible the Great Room and your wedding breakfast will have a classic look steeped in history. Capacity ranges from 30-140 depending on the room. The RSA is located right next to Charring Cross, Embankment tube station, the Thames and the Strand, so it is accessible by pretty much every transport mode under the sun. Get ready here or somewhere close by, hold your ceremony here or somewhere else, host your whole wedding here or just your reception. The options are endless. The latest wedding I shot here, will give you a great taste of what to expect.
10. Two Temple Place
One of London's hidden gems is Two Temple Place. Two Temple Place is conveniently located next to Temple church, Victoria Embankment Gardens as well as the Thames and in easy walking distance to both Temple Station and Blackfriars. It has a capacity of up to 150 guests and has a list of Caterers that they can recommend to make your wedding planning easier. Sip champagne and chat over canapés in the former library of William Waldorf Astor and wow your guests with the incredible Knights Templar stained glass window and staircase. Enjoy and extended party until 4am. Enjoy your yourselves like this bride and groom did at their grand elegant city wedding at Two Temple Place did.
11. The Gherkin
The Gherkin is one of the most iconic buildings in the London Skyline and it is available for weddings. If you're looking for an urban feel with lots of light, incredible views and an unforgettable location, you can't get better than this. The views will floor your guests during your wedding ceremony. Then the sunset will surround you during your first dance and take their breath away. What can be more romantic than that?
12. The National Maritime Museum
Talk about a venue that exudes history. The National Maritime Museum in Greenwich is both iconic and classic. Surrounded by the incredible views of Greenwich park, it is in close walking distance to the Royal Observatory and the stunning views from the top of the hill, as well as the hustle and bustle of Greenwich Market and the Cutty Sark. Enjoy your wedding portraits in the park and in between the columns of the Museum and your wedding photos will have an incredible wow factor.
13. The Lanesborough
There is no way that the Lanesborough could stay off this list. Nothing quite says glamour and chic like this beautiful venue in central London. It is situated in Knightsbridge, right opposite Marble Arch and the corner of Hyde Park. It is a an effortlessly chic wedding venue that is equally opulent as it is luxurious. The Lanesborough will absolutely mesmerise your wedding guests with its effortless beauty. This beautiful couple took full advantage of its location and its glamorous beauty for their big day.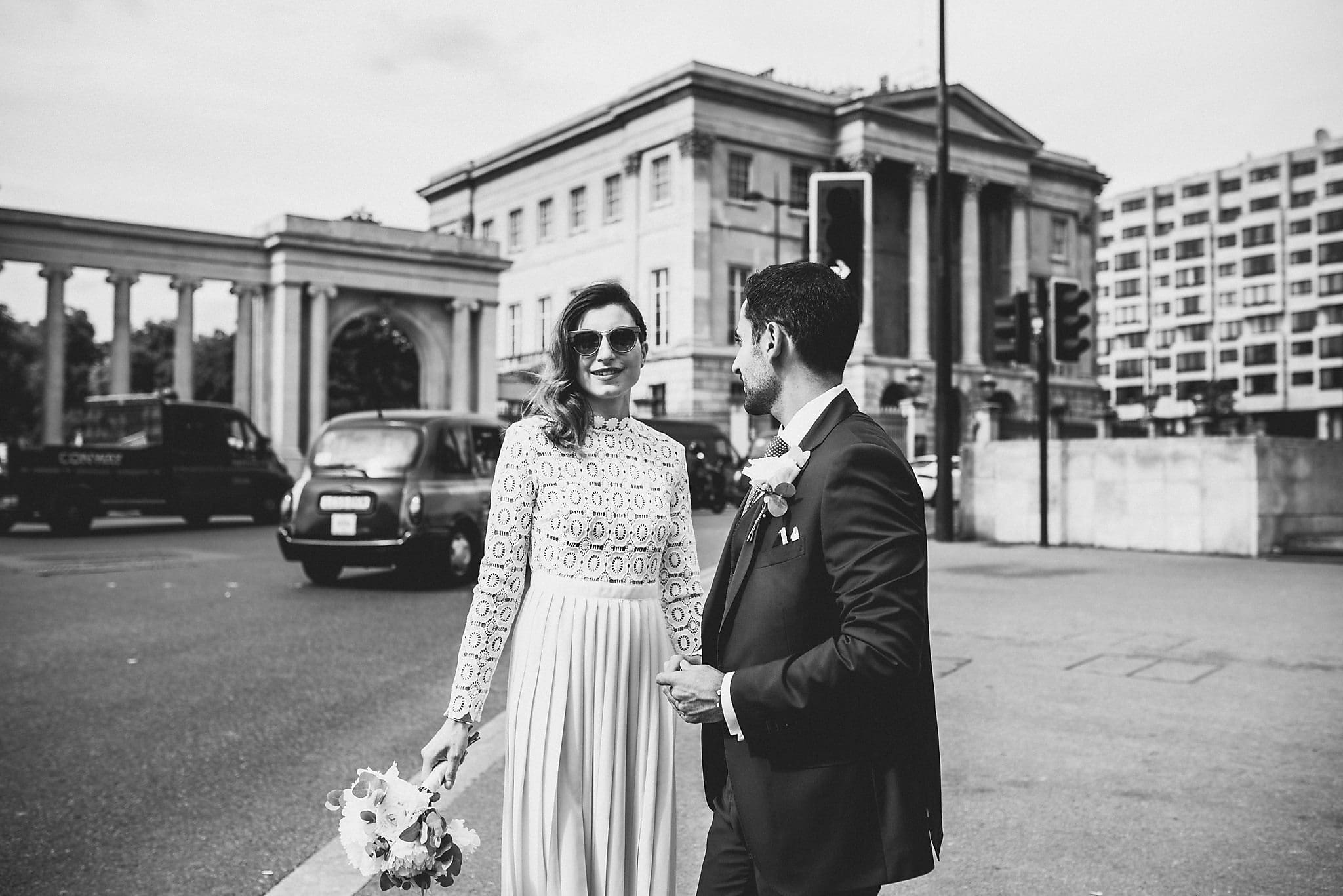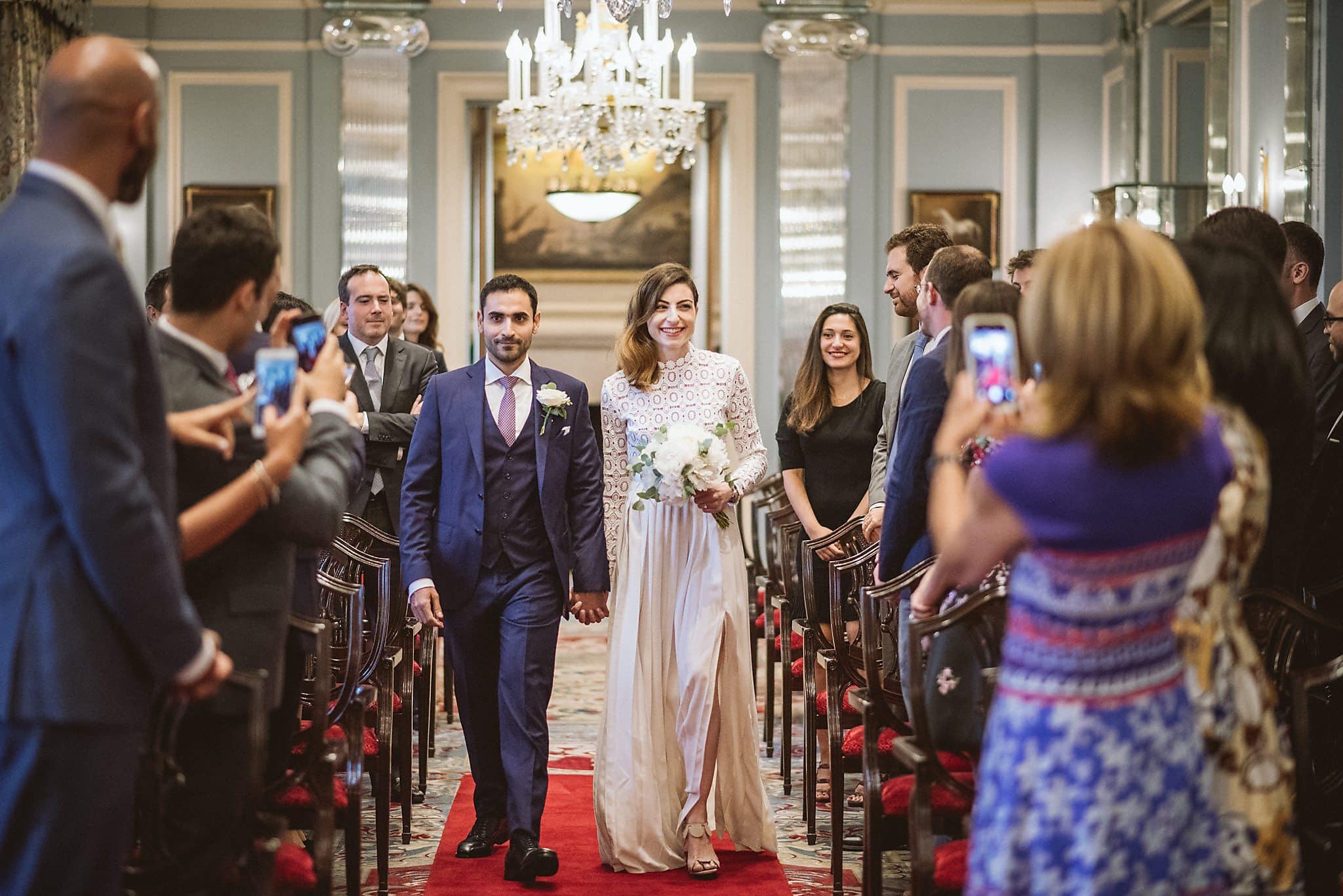 14. Merchant Taylor's Hall
Merchant Taylor's Hall is another one of the hidden gems in London. Contemporary, timeless, elegant and luxurious, it is a venue you must contemplate, especially if you're planning a large wedding. It is located in easy walking distance of Leadenhall Market and the Thames and it offers beautiful rooms steeped in history. Have your canapés and drinks reception in the secret courtyard at the heart of this venue and enjoy the sunshine here too, just like at this beautifully relaxed wedding.
15. The Hampstead Pergola
One of my all time favourite hidden gems in London is the Hampstead Pergola and Hill Garden. It is a wonderful secluded wedding venue that has a distinct Italian or South of France feel. Although you can only have your wedding ceremony and drinks reception here, it is a venue worth looking at if you're after something completely unique and romantic. Make use of the beautifully tended gardens and stunning overgrown columned structures for your wedding portraits and you will be left with memories you will never forget. Take a virtual stroll there with me with this gorgeous golden light engagement and my last elegant Italian inspired wedding there.
16. Barbican Centre & Conservatory
If you would like to get married surrounded by greenery but not have to travel far, you should definitely consider the Barbican Conservatory. It can seat up to 220 guests, and offers a secluded couples area to take your wedding portraits without curious onlookers. The floor to ceiling windows in your reception room will bring in all the light and offer stunning views of the London skyline all day long. It is also a really funky space, that's great if you're looking for something out of the box.
17. Royal Horticultural Halls
I was fortunate enough to photograph a Greek wedding here a little while ago. It is the perfect central London wedding venue for large parties. With a ceremony capacity of 600 and a dinner capacity of 480 wedding guests it is a great choice for a Greek, Jewish, or Asian wedding. The team are super friendly and will accommodate all of your wishes. Celebrate with all of your friends and enjoy a beautiful conveniently central venue in the process.
18. The Bluebird in Chelsea
Another one of my favourites is the Bluebird Restaurant in Chelsea. I can't wait to photograph a wedding here again. This grade II listed building is both a delectable restaurant and a fabulous wedding venue. It's full of striking architectural features as well as colourful modern design touches. It can accommodate weddings from 20 to 230 guests and has both indoor and outdoor space available. It's incredible catering menu is guaranteed to have your guests licking their fingers. Take a quick stroll to the tiny roads, nooks and crannies nearby for some wedding portraits, then rejoin your guests for the rest of your celebrations. A photographer who knows their way around will help make your photos look beautiful and so so much fun. Take a look at my most recent fabulous and fun Bluebird wedding.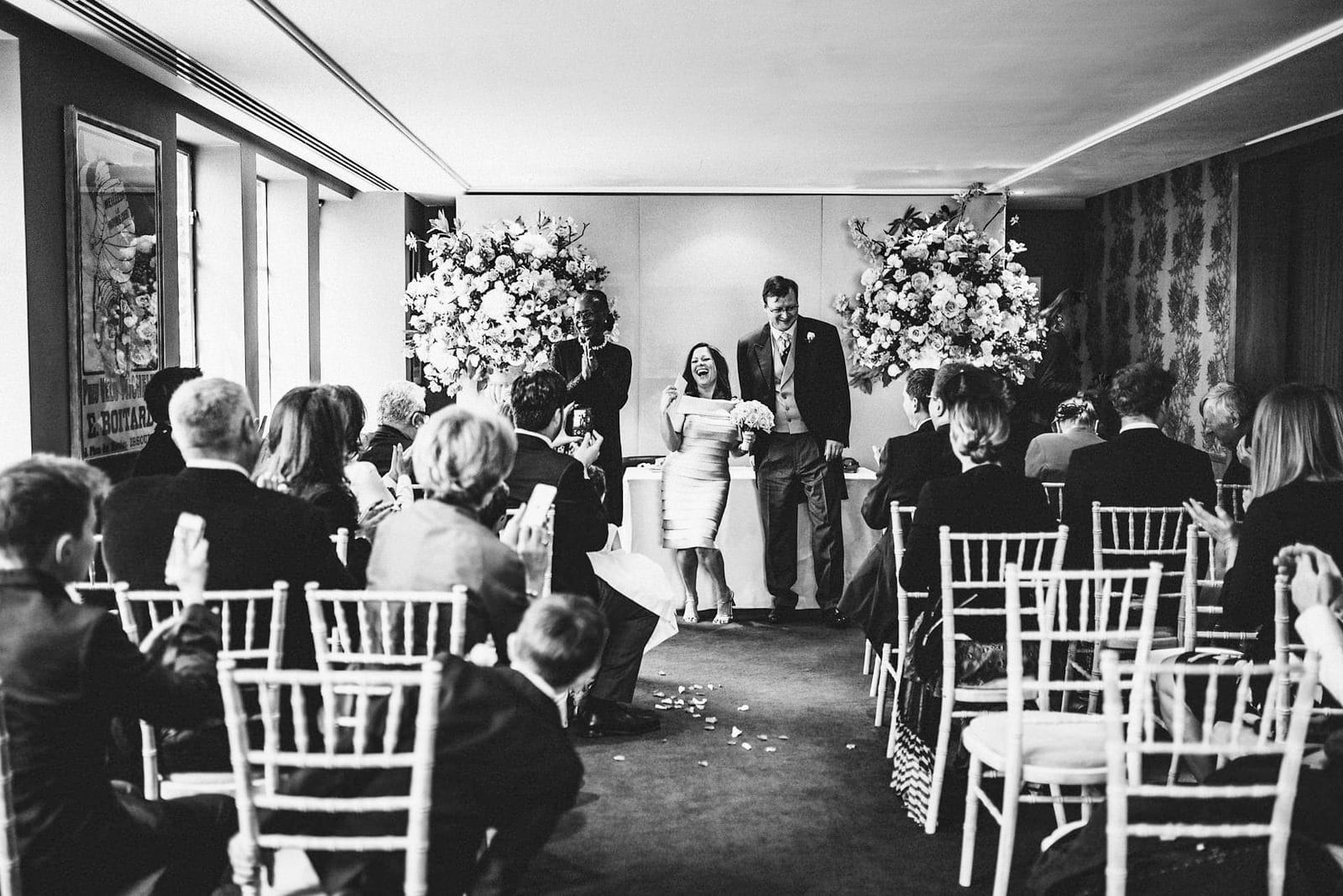 19. Belair House
Belair House is a really pretty London wedding venue with tons of character and charm. It is surrounded by beautiful park grounds that are perfect for your wedding portraits. They are also pretty to look at during your drinks reception. As you enter Belair House its striking winding staircase will lead you up to the ceremony room. And this beautiful feature alone will already make your guests ooh and ahhh with delight. Enjoy your drinks reception on the sunny terrace, or in the various rooms of the house, then head straight out to the marquee for your wedding reception. It's a great wedding venue with lots to offer and a capacity of up to 80 guests. My latest wedding at Belair House was just beautiful.
20. Clissold House
Clissold House is located in the heart of Hackney and Stoke Newington. It is framed by a river and surrounded by a vast park. You can get married here or at The Old Church next door. Then you can enjoy canapés, the park, and of course Clissold House itself. Have just your canapés here and then head to a Pub nearby, or use Clissold House as a one-stop shop and celebrate your whole day here. You can't go wrong if you're looking for a Country Manor House look and feel, but located in London. Take a look at my latest Clissold House Wedding that was all Gatsby glamour.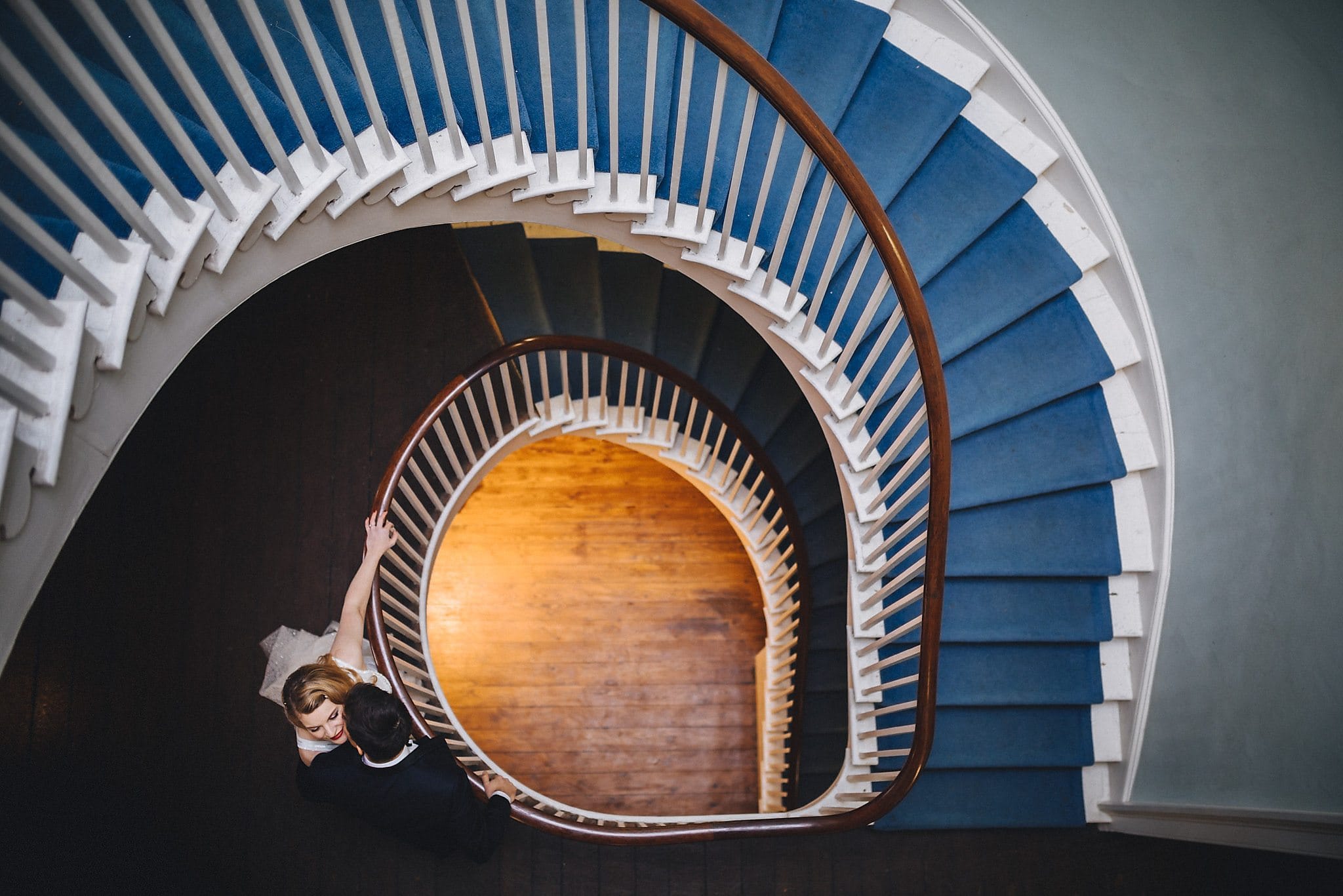 21. West Reservoir Centre
Now here's a venue that combines industrial chic with exquisite wedding celebrations. The West Reservoir Centre has a capacity of 130 wedding guests and you get exclusive access to the reservoir pier. Its massive steel beam structure really adds to the atmosphere and shapes this venue's space. Take a stroll along it and you'll have some stunning photos that you wouldn't get anywhere else in London. This colourful and happy wedding was so much fun and shows the West Reservoir Centre at its best.
22. The Counting House
One of the most romantic London Pubs that are bursting with character and pizzazz is the Counting House Pub. It is a central London wedding venue that you should really consider for a small to medium sized wedding. It is located in Bank, and so it couldn't be more central. With a bar at the heart of the Pub it will keep your guests happy for duration of your celebration. The beautiful boutique hotel rooms are available to you and your guests, so you don't even have to worry about getting home at the end of it. At this cool and iconic wedding everyone took a double decker London Bus from the ceremony venue to the Pub to celebrate. And what a celebration it was!
23. The Hospital Club
One of the quirkiest wedding venues in central London is the Hospital Club. Located in Covent Garden it is right in the middle of London's hustle and bustle. It has a great capacity of 200 wedding guests, so would easily suit most London Weddings. Your guests will love the creative cocktails and wedding games such as table tennis, table football and air hockey. Add to that some really fun interior design and if you are a creative, quirky couple that loves central London, you will adore it. Take a look a the fun this Italian bride and groom had there.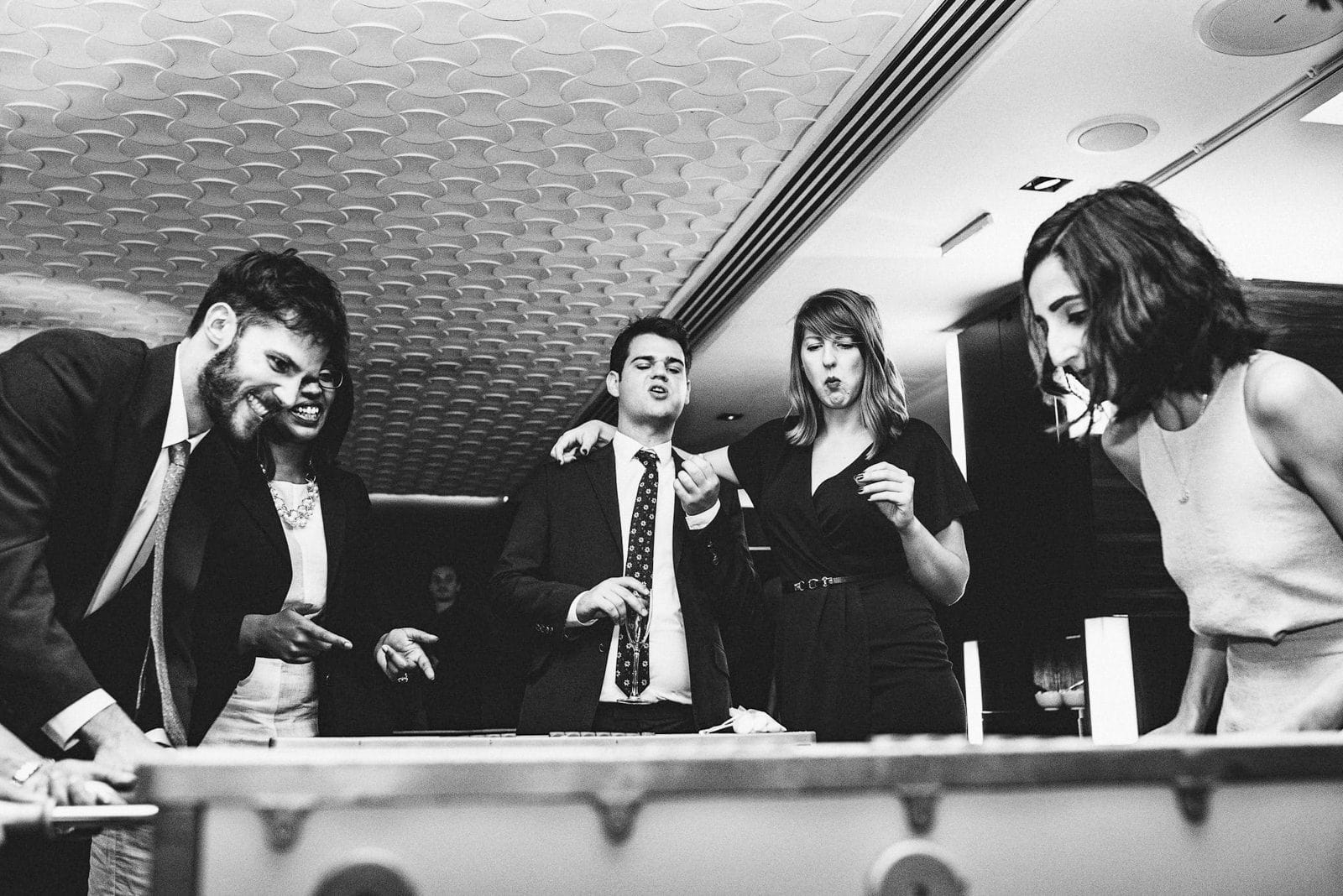 24. Morden Hall
Morden Hall is a lovely London wedding venue that has a country Manor House feel about it. Its bright sunlit rooms are a beautiful setting for your ceremony and reception. The park, stream and bridge are the prettiest backdrops for your wedding portraits in any season. They are also in very easy walking distance. This emotional fusion wedding at Morden Hall is well worth seeing.
25. Porchester Hall
Last but not least there is Porchester Hall. Porchester Hall's capacity of 450 wedding guests is perfect for a Jewish, Asian, or other large wedding party. Porchester Square Gardens is really pretty and right across the road. It's perfect take 10 minutes out for some beautiful wedding portraits in the sun. Then head back in, and into the atmospheric Hall for your absolutely glorious wedding reception and party. If you are planning a large wedding you really can't go wrong. These guys loved it for their Ethnic Thai and Mauritian Fusion Wedding.
Finally…
I hope you've enjoyed my list of the 25 Best Wedding Venues In London and found it useful. There really is so much choice in London, both for couples as for a London wedding photographer. And this is by no means an exhaustive list. I hope it's given you some ideas and introduced you to some London venues that you didn't even know existed. Planning a wedding starts with finding the perfect wedding venue after all, and maybe you've just found the one for you on this list.
Please take a look at my most recent work, or get in touch now to book in your wedding date.
If you like this post please Pin, Share and Comment