Whether you're looking to have your pre-wedding shoot at Coworth Park or if you're thinking of getting married at Coworth Park you will already know that it such a beautiful place that has so much to offer. From the beautiful Manor House to its extensive grounds, it is not only quirky but also an elegant and wonderfully interesting background for your couple shoot. Here are my 7 favourite Coworth Park Couple Shoot Locations that are all within easy walking distance of your wedding ceremony.
Let's dive right in and take a look at where to go for the highest impact.
Best Coworth Park couple shoot locations within walking distance of your wedding ceremony
The gorgeous Wildflower meadow
Whether it is covered in wild flowers bursting with pops of pink or a gorgeous sea of yellow, Coworth Park is famous for its extensive and stunning wild flower meadow. It's hard to resist its beauty and your guests will be absolutely wowed as they come up the drive on your special day. Even on a dreary or rainy day, it's a colourful and timelessly pretty feature that will make you and your guests smile.
It is also a very short walk from indoor ceremonies and beautifully frames outdoor ceremonies, which are often held out in the meadow. At its prime it not only looks gorgeous in your photos but also smells divine, which is something both you and your guests will love and remember for years to come.
Just be watchful if you have hay fever as it might affect you and nobody wants to be a sneezing bride or that one guest that wouldn't stop sneezing. Bless you!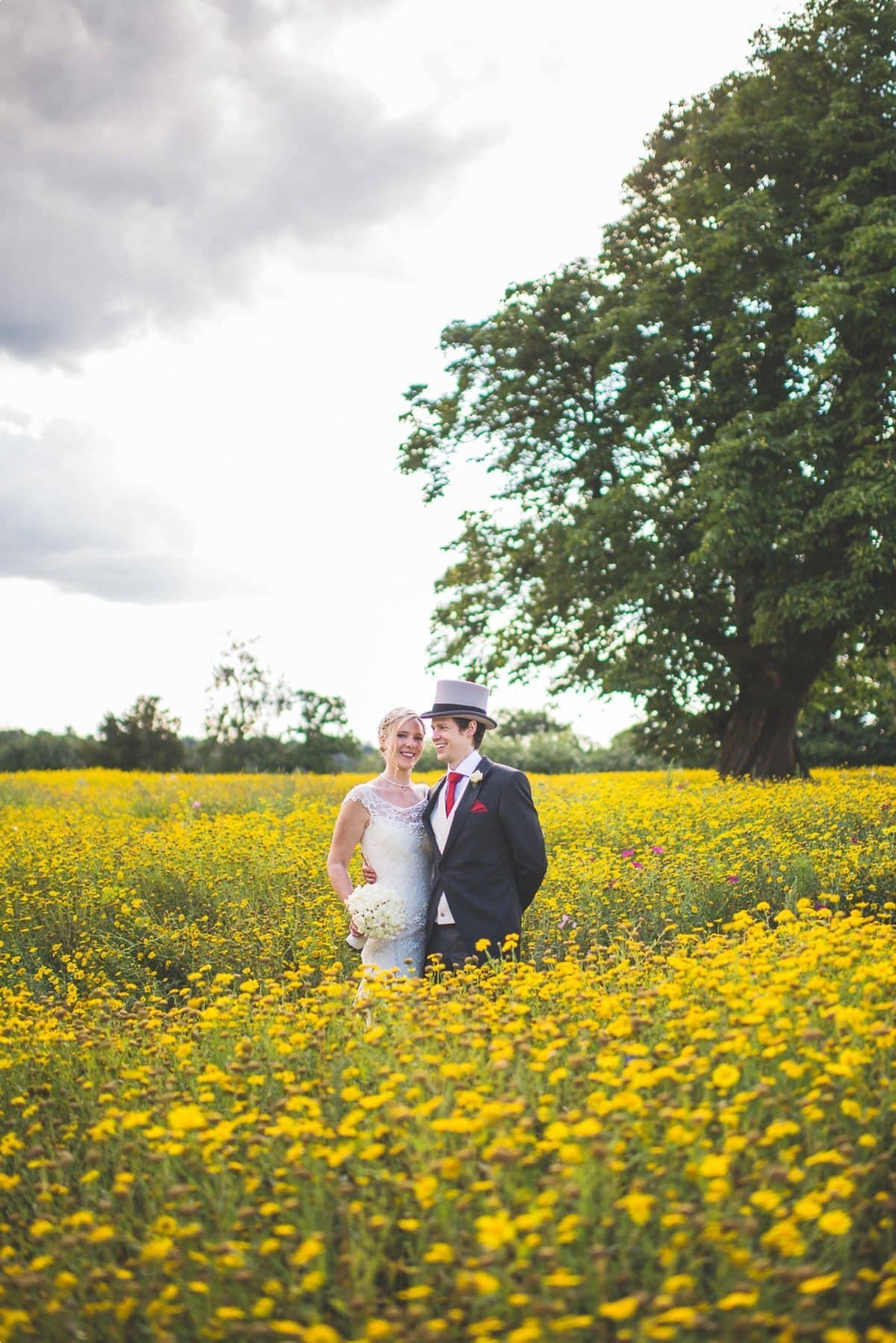 The Long and lingering alley of trees
This Beautiful tree framed alley whispers with its rustling leaves of long forgotten times. Just imagine high society ladies and gentlemen in the time of Jane Austen walking here in the shade of the trees. Whether on a scorchingly hot day or on a rainy windy day, here you can hide from the elements. Open a parasol or an umbrella as you walk and you might as well be walking along with the elegant couples of times long passed. A stones throw from the meadow, this is an easy and must have couple shoot location at this beautiful venue.
The Pergola frames and beams
Coworth Park, both inside and out, displays a huge number of statues and modern art pieces. From tiny to huge, detailed to abstract, they are dotted around Coworth Park. And many of them are placed in and framed by the Pergola. A 2 minute walk from the main House, the Pergola is a summer seating area and an outdoor art gallery. Many couples have their drinks reception here and serve canapés and champagne in between the plants and statues. It's easily one of the most versatile couple shoot locations Coworth Park has to offer.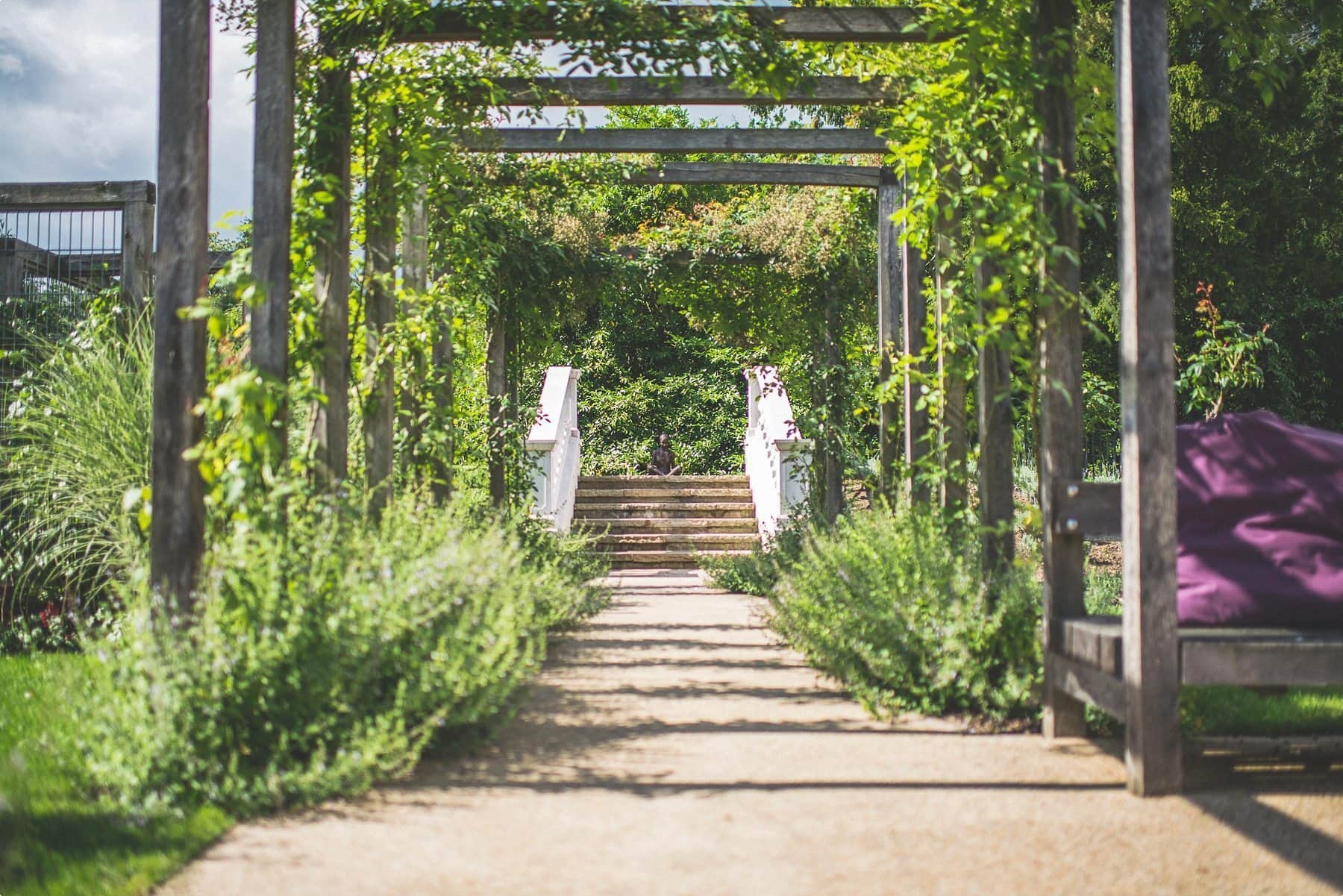 The Fountains
Coworth Park has 3 fountains of various sizes that are all great couple shoot locations. They are almost directly next to the wildflower meadow and really easy to get to on foot. They work great on both sunny and rainy days, and frame your photos beautifully. And they look so romantic in the day time and equally dramatic at sunset. Just look how gorgeous the waterlilies on the long fountain will look in your photos.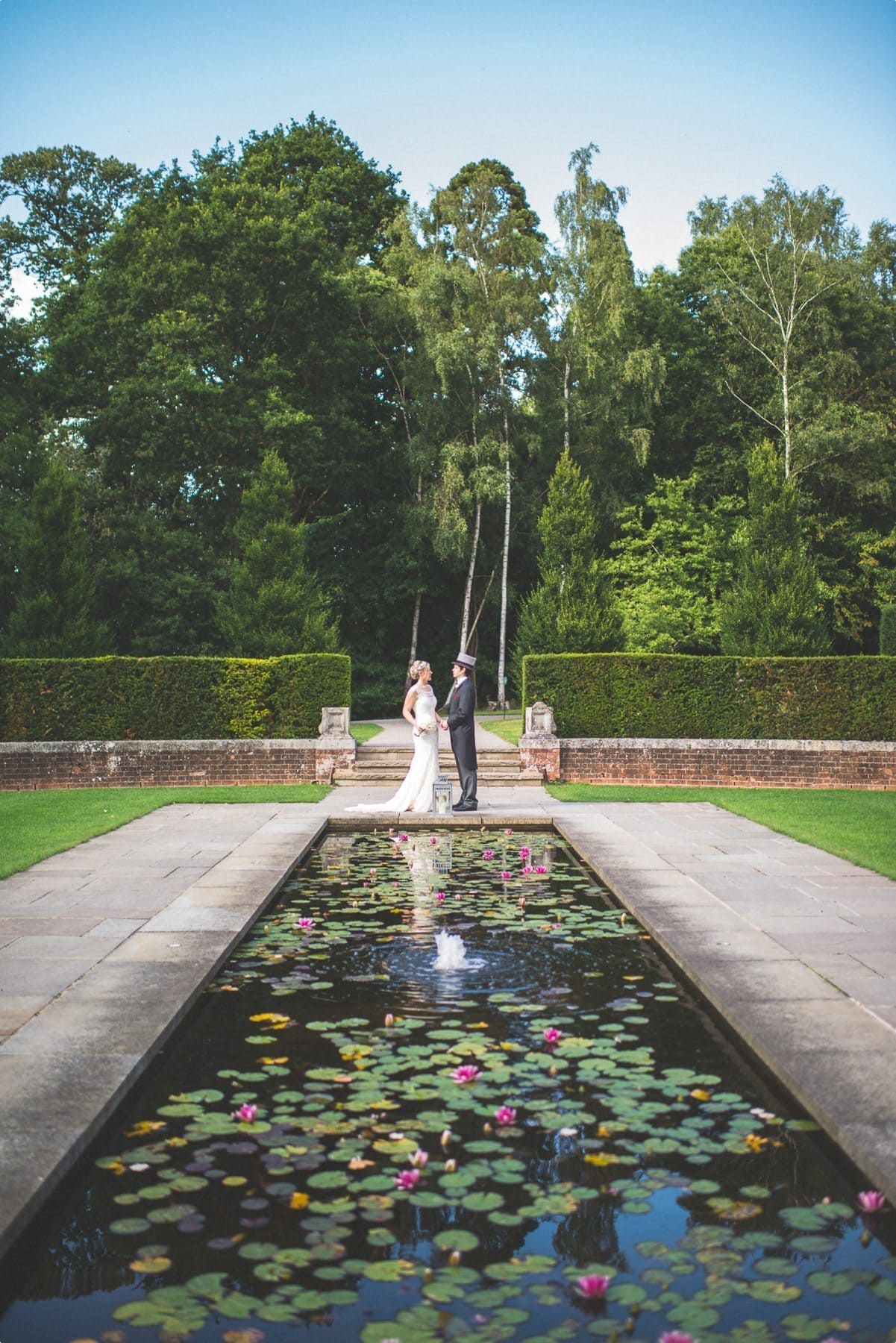 The Lakes at Coworth Park
If you're looking for a wilder, more natural feel, then the two lakes at Coworth Park are perfect for you. Just past the barn they are slightly further away but still within walking distance and look absolutely breathtaking at sunset. The Lakes shimmer golden as they reflect the sunset colours of the sky. Just imagine walking along and soaking up the warm rays of the sun while you catch 5 minutes by yourselves.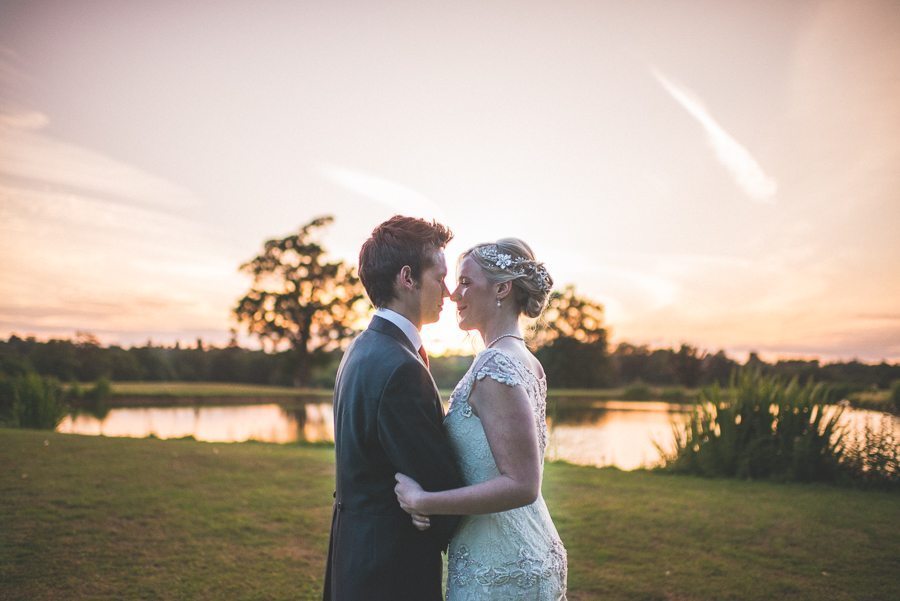 Coworth Park Manor House
Let's not forget Coworth Park Manor House itself. From the back or the front, Coworth Park looks absolutely amazing as the background of your couple shoot. It is elegant and luxurious, framed beautifully by the wildflower meadow.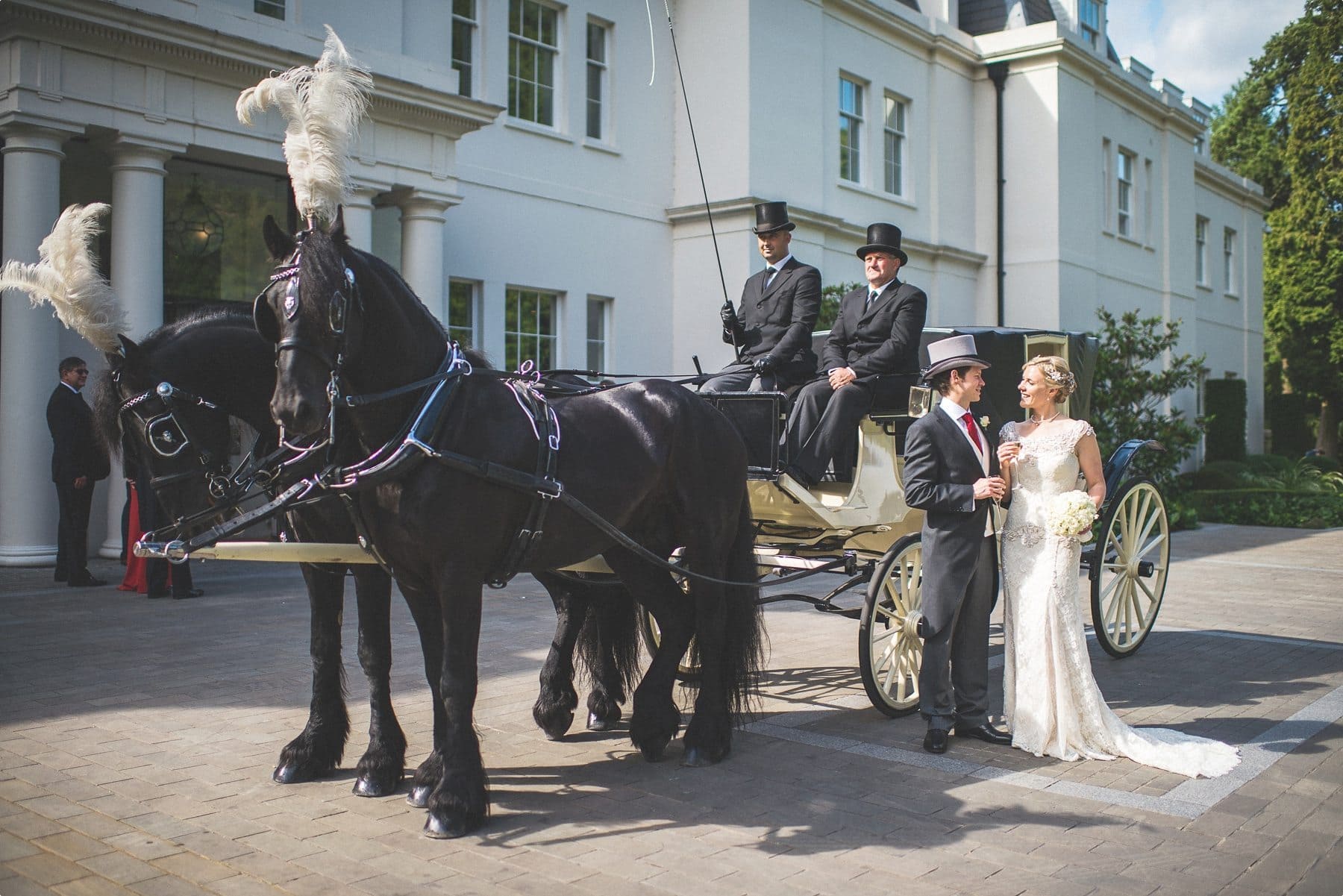 But what if it rains?
There are a few great rainy day options above, but sometimes there just isn't a way to get outside. Luckily, Coworth Park is equally as abundant in beautiful interesting background on the inside as throughout its vast grounds. From statement lighting to its incredible staircase, the main House at Coworth Park has much to choose from.
There's lots more to keep in mind when you're planning yourengagement shoot, and if you want to make the most of your pre-wedding shoot or you're looking for some inspiration, I'd love to hear all about what you have in mind. I can't wait to start planning your very own Coworth Park engagement or Wedding Photography, and if you have any questions, just ask.
Because whatever season you're planning your shoot for, you will easily find great couple shoot locations at Coworth Park. And your photos will be beautiful and and just burst with colour and emotion. So what are you waiting for? Which area would you like to go and explore?
If you like this page, please Pin, Comment and Share it